Top 10 Best-Selling Cars: December 2013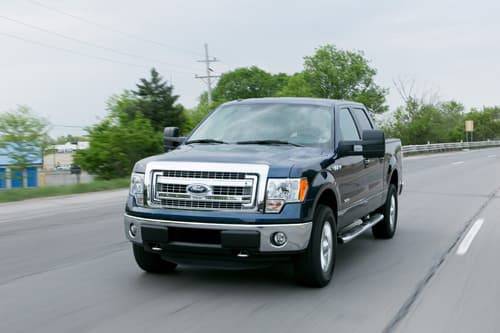 With the top seven automakers reporting sales, the industry is on track to end December 2013 about flat with December 2012. Don't call it a sputter just yet. Recall that December 2012 was a decent month — and that 2013 still ended well. Toward that end, each automaker charted its own course to the finish line.
The Top 10 Best-Selling Cars of 2013
Shoppers gave Toyota the indifferent shoulder as the automaker fell 1.7 percent in December. Three of Toyota's four best-sellers — the Camry, Corolla/Matrix, RAV4 and Prius family — saw lower sales versus year-ago figures. Nissan, by contrast, chalked a 10.5 percent rise on strong Sentra and Rogue sales. And Honda gained 1.9 percent in December as dealers began the month with Accords and CR-Vs aplenty, and shoppers lined up for both. Despite a similar inventory situation, however, the Civic fell 12.4 percent.
Chrysler stemmed losses from its Chrysler and Dodge brands with a 16.7 percent surge in Ram trucks and a 33.6 percent surge at Jeep, thanks in large part to more than 15,000 sales for the new Cherokee. The automaker said it was the best December in Jeep's 72-year history, and the SUV became Chrysler's third-best-selling vehicle, period. It more than quintuples the year-ago December sales of the Liberty it replaces.
Ram trucks aside, pickups had a weak month. In November, the home-construction market saw its best month since February 2008. Pickups have been on a roll, so we expected big numbers to end the year. Not so much: Full-size pickup sales sputtered in December, down 1.4 percent versus a good-but-not-great December 2012.
GM fell 6.3 percent overall as shoppers spurned the Chevrolet Silverado and GMC Sierra. Sales decreased 16 percent for the Silverado, adding to the lead for Ford's rival F-Series. Sales increased 8.4 percent for the automaker's best-selling pickup, which, despite its age, was also one of the fastest-selling cars in December. Sales for GM's full-size pickups remain up for the year, however, propelling the automaker to a 7.3 percent overall rise in 2013.
Ford's success extends past the F-Series. The Fusion sedan soared 26.6 percent as Ford dealers had a pile to sell — 95 days' inventory on Dec. 1 versus the industry's 77-day average, according to Automotive News, and nearly double the Fusion's 49-day supply in December 2012. Year-over-year incentives stayed put, but they could increase this month if Ford has any remaining supply to trim. Inventory for the automaker's Escape SUV is higher, too — 83 days — but Ford elevated incentives in December, and shoppers responded. Escape sales gained 21.5 percent through the month.
Still, overall transaction prices gained $882 per car in the first half of December versus all of December 2012, according to CNW Marketing Research. That means the average new car cost $32,900 in the first half of last month.
Here are December's top 10 sellers. Stay tuned for our year-end wrap-up later today.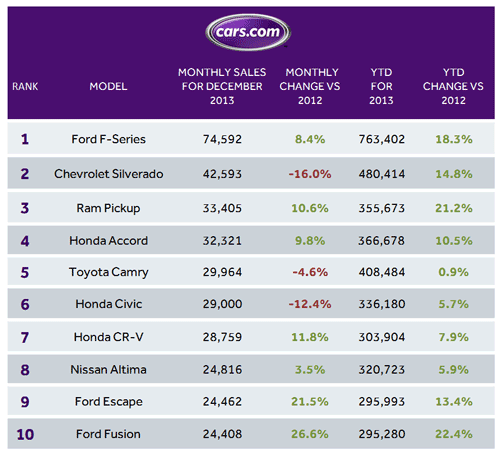 Related
December's Fastest- and Slowest-Selling Cars
Top 10 Best-Selling Cars: November 2013
More Automotive News