Top 10 Best-Selling Cars: January 2013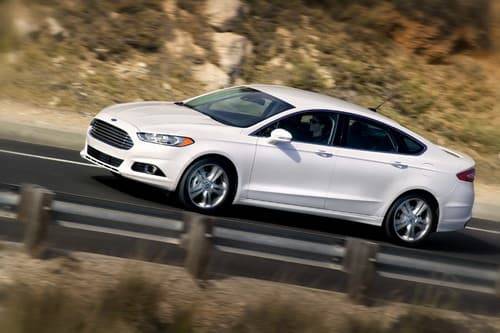 Ford's banner month shifted the top 10 best-sellers. The Focus compact dropped from the list, but the Fusion sedan and Escape SUV reprised their standings; both were absent in December 2012. Despite two recalls following its launch early last fall, the redesigned Fusion shot up 64.5%, and this came with lighter incentives than the outgoing Fusion a year ago. The redesigned Honda Accord — winner of our recent Cars.com $26,000 Midsize Family Sedan Showdown — picked up even better speed, packing on 75.2% to stay 1,525 cars ahead of the Fusion. Keep an eye out: That race could end the year in a photo finish.
J.P. Morgan analyst Ryan Brinkman pegged sales right around December's annualized rate, Automotive News reports, meaning January would tie for the second best sales month since February 2008. Shoppers kept buying despite fewer deals. Total dealer and automaker discounts now combine for $5,223, according to CNW Marketing Research. That's down more than $500 versus January 2012, and combined with rising MSRPs, it's driven the average new car to $32,163 in January — up 6.6% versus a year ago.
Pickup trucks had a strong month, with GM's Chevrolet Silverado and GMC Sierra twins up more than 30% apiece. Both trucks have 2014 redesigns, but year-over-year incentives are up as much as $2,000 on the Silverado. Truck shoppers clamored for Ram pickups (up 14.3%) and Ford's F-Series (up 21.7%), too. Panelists at December 2012's Society of Automotive Analysts conference in Detroit predicted this, tying pickup truck sales to accelerating housing starts — which in December hit their highest annualized levels since June 2008. How much are the two correlated? Try about 95%, Citi analyst Itay Michaeli said.
Here are the top 10 best-sellers: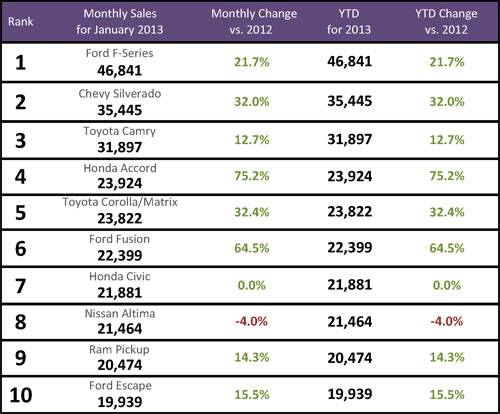 Related
Top 10 Best-Selling Cars: December 2012
Top 10 Best-Selling Cars of 2012
More Automotive News