Top 10 Best-Selling Cars: January 2015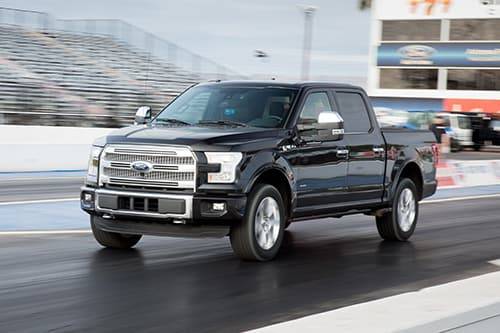 Auto sales got off to a strong start in January as car shoppers piled into pickup trucks, SUVs and — less expectedly — small cars. With the largest seven automakers reporting figures, new-car sales are up 14.8 percent. The Detroit Three and Japan's three largest automakers all registered double-digit gains, while Hyundai-Kia, the lone laggard, gained just 2.2 percent.
Related: January's Fastest- and Slowest-Selling Cars
Most of the popular nameplates saw renewed popularity: With a new Ford F-150 in growing dealer supply (and landing among January's fastest-selling cars), the F-Series pickup truck gained 16.8 percent. The Chevrolet Silverado increased 24.8 percent. Compact-car shoppers pushed the Toyota Corolla, goosed by slightly more year-over-year incentives, up 20.2 percent. And the refreshed Honda CR-V — outside of pickup trucks, the best-selling nameplate in December 2014 — remains hot, ballooning 27.3 percent without incentives.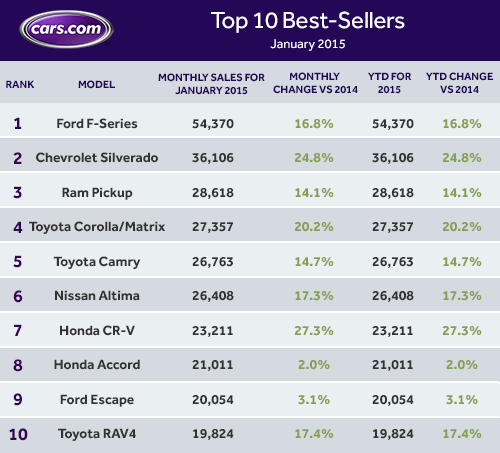 But the gains need some context. Across much of the country, January 2014 was a dreadful month for car shopping. Recent blizzards notwithstanding, cold-weather markets like Chicago, Detroit, New York, Milwaukee, Minneapolis and Philadelphia had more snow in January 2014 than January 2015, according to AccuWeather.com. Only Boston had a worse January 2015. (We're talking snow, not professional football.) New-car sales slumped to a nine-month low in annualized terms, and the industry entered February 2014 hoping for better days ahead.
Fast forward to today and the sales gains look impressive. Average transaction prices ($32,593 in early January, according to CNW Research) are roughly flat with year-ago levels, but low gas prices and a still-strong housing market have prompted plenty of car shopping.
One question heading into the month: Would pickup shoppers — a group who snapped up trucks throughout 2014 — have enough appetite to accommodate a surge of midsize pickups, too? January sales indicate a fist-pumping absolutely. With GM's reinvigorated Chevrolet Colorado and GMC Canyon on the market, midsize pickups soared 60.7 percent, and the midsize boom didn't seem to take any wind out of full-size sales. Large pickups still outsold their smaller siblings by a 5.5-to-1 ratio, all the while gaining 16.8 percent in January.
The Toyota Corolla's popularity, meanwhile, proved an indication of non-luxury compact cars overall. Shoppers drove the segment up 16.7 percent, though it came at some expense to subcompacts, which fell 2.5 percent. Midsize sedans (up about 6 percent) fared OK, but SUVs remain strong. Popular smallish crossovers (like the CR-V and Ford Escape) gained 15.1 percent, while large three-row crossovers were up about 30 percent. And as February began with the average regular unleaded gas prices more than $1.20 per gallon cheaper than a year ago, shoppers took home full-size truck-based  SUVs aplenty. The segment — with SUVs like the Chevrolet Tahoe/Suburban and Toyota Sequoia — surged 74.3 percent.
Cars.com photo by Evan Sears