Top 10 Best-Selling Cars: January 2016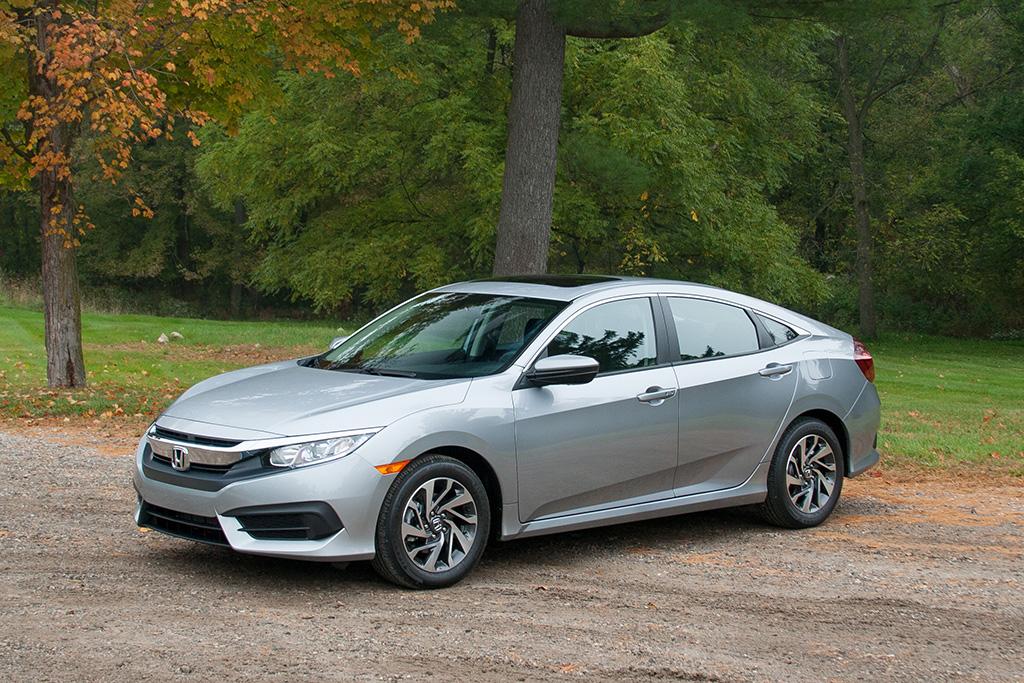 CARS.COM — The redesigned Honda Civic started 2016 with a bang, as sales rose 43 percent in January versus a weak January 2015. When the dust settled, the Civic landed just 107 cars short of dethroning the Toyota Camry as America's best-selling vehicle that isn't a pickup truck. If sales were Iowa caucus votes — well, we won't go there.
Related: What Was the Best-Selling Car in 2015?
The Camry has held its title for 11 of the past 12 months, and kept it in January amid significant incentives on the popular sedan. Automotive News reports retail cash incentives as high as $1,500 per Camry in the month. That's well above the car's incentives in the month a year ago, which amounted to just $500 per car.
Here are the top 10 best-selling cars in January 2016: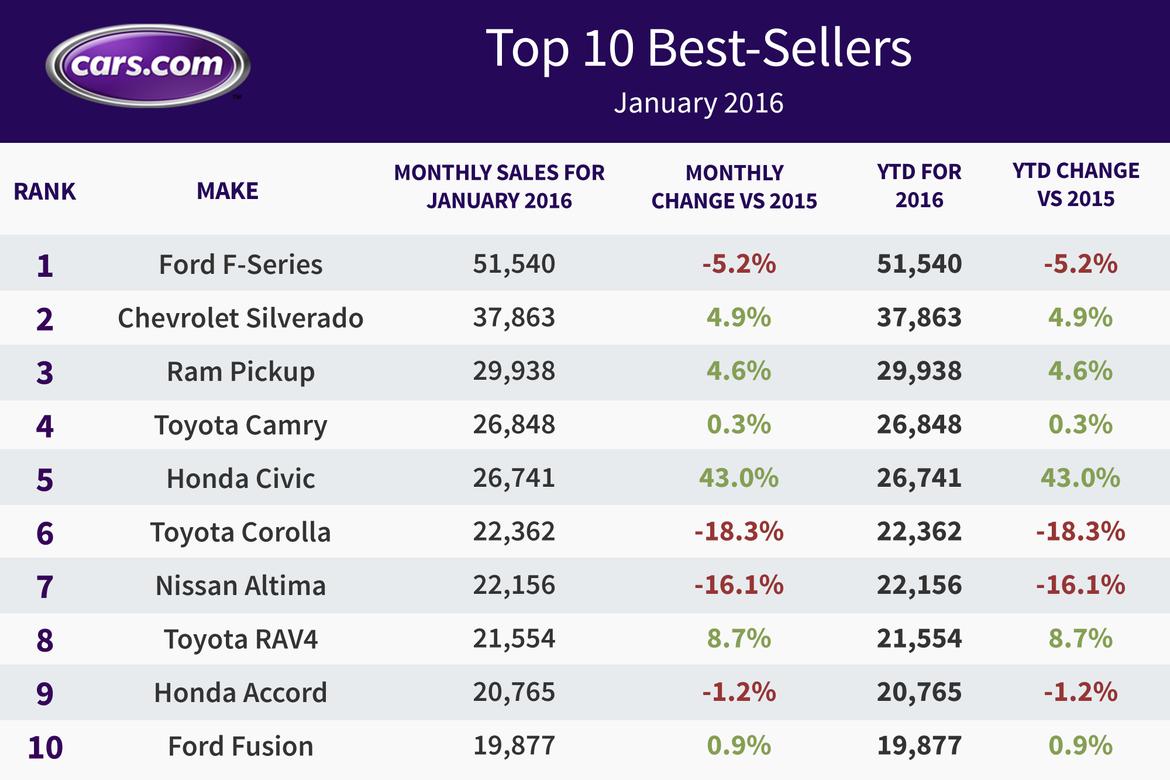 January auto sales overall were roughly flat. But given that all year-over-year comparisons from now until Christmas will be against a record-breaking 2015, flat indicates solid demand in January, especially given the bath that most shoppers' investments took last month.
What did shoppers buy? Here's where it gets interesting. Gas is cheap, but it already was plunging a year ago, and shoppers responded by snapping up SUVs of all kinds in early 2015. Relative to that, America's SUV appetite appears to have plateaued.
Among non-luxury models, sales for midsize and large crossovers fell in January, as did full-size SUVs. Small SUVs still found more shoppers, with the tiniest group — subcompact SUVs — roaring up 64.2 percent. Still, four subcompacts (the Fiat 500X, Honda HR-V, Jeep Renegade and Mazda CX-3) weren't on sale a year ago, so we can't gauge the permanence of the trend until later this year.
Civic sales notwithstanding, traditional cars continued to get the cold shoulder. Among non-luxury models, the compact and midsize segments saw continued losses, while subcompacts fell 12.7 percent. Of particular note are the midsize Chrysler 200 and compact Dodge Dart, whose sales collapsed 63.3 percent and 41.6 percent respectively. That's versus a stellar January 2015 for both models, but the tumble still adds credence to FCA's plans to discontinue them.

IHS Automotive estimates that last week's East Coast snowstorm disrupted sales in big markets over the weekend of Jan. 22-24, keeping shoppers away from some 15,000 potential purchases. Still, the impact in markets such as New York and Philadelphia may have been offset by milder winter weather across much of the country. Boston, Chicago, Cleveland, Denver and Detroit all had less snow — in many cases a lot less — in January versus the year-ago month, according to preliminary data from the National Weather Service.

Oh, and if you're keeping track, Volkswagen's sales doldrums amid a massive diesel crisis are ongoing. Sales fell 14.6 percent in January versus the year-ago month, before the crisis hit, and that's despite likely considerable incentives. Sales of its TDI models, which used to account for more than one-fifth of all sales, have been suspended since November.