Top 10 Best-Selling Cars: July 2014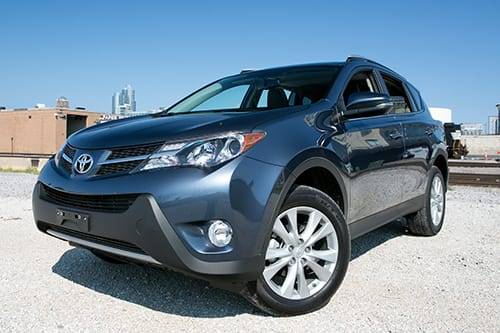 Today's sales figures continue to pave the road for a strong 2014. As the sales year steams into its second half, we've seen new optimism from analysts and automakers that expect total new-car sales this year to land close to where they were in the heyday years of the early 2000s.
Related: Top 10 Best-Selling Cars: June 2014
With the largest seven automakers reporting numbers so far today, industry sales increased 9 percent over July 2013. Honda was the odd one out (down 3.9 percent), but Hyundai-Kia, Toyota and recall-beset GM reported single-digit sales gains, while Chrysler, Ford, Nissan and Toyota reported double-digit gains. All of that is compared against a pretty good month a year ago for the industry, too.
Thanks to big gains from the Sentra and Versa, Nissan sales gained 11.4 percent. Small-car sales overall were mixed: Shoppers had more interest in the Ford Focus (up 5.7 percent) but not the recall-besieged Chevrolet Cruze (down 17.8 percent), the Honda Civic (down 7.3 percent) or the Hyundai Elantra (down 7.9 percent).
Popular SUVs, meanwhile, had a more consistent trend. Ford's Escape and Explorer both had double-digit sales gains, while the Toyota RAV4 gained 37.1 percent to land among the top 10 monthly sellers for the first time since March 2010. Chrysler's Jeep division, meanwhile, had a banner month. Shoppers drove Wrangler sales up 13.8 percent to the nameplate's best July ever. And it looks like the new Cherokee should have no trouble breaking 100,000 sales — or 150,000, even — in its first full year on the market. With 95,259 sales through July, Jeep's new smaller SUV is the brand's third best-seller by fewer than 10,000 units.
SUV popularity helped propel GM sales up 9.4 percent, continuing months of sales gains despite the automaker's unprecedented recalls in 2014. In a company statement, sales chief Kurt McNeil attributed the popularity to "American families feel[ing] better about the economy than they have in a long time."
Indeed, consumer confidence soared to a nearly seven-year high in July; through the first seven months of 2014, it's averaged higher than any single month in 2013, despite a few other softening economic indicators of late. Meanwhile, new-car prices continue to ebb. The average new car sold for $32,301 in early July, according to CNW Research. That's actually down 1.1 percent ($375) versus July 2013.
Here are July 2013's top 10 best-selling cars: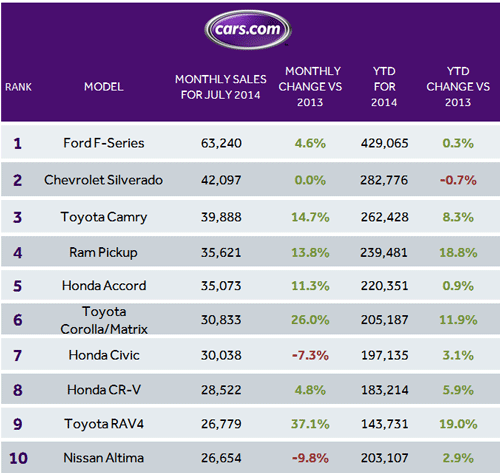 Cars.com photo by Evan Sears