Top 10 Best-Selling Cars: May 2012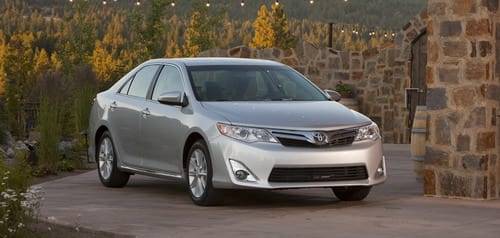 Toyota dominated the sales landscape last month, with May sales up nearly 90%. That's versus a weak May 2011, when Japan's earthquake and tsunami had shoppers thinking Toyota, Lexus and Scion showrooms would have few cars in stock. It actually wasn't the case, noted Toyota spokeswoman Carly Shaffner; Automotive News data show Toyota maintained higher inventory in May 2011 then it did this past May, but the perception dried up demand and the automaker lost a third of its sales. Last month, it more than made them back: Camry and RAV4 sales more than doubled, Corolla/Matrix sales jumped 87.5% and Prius sales tripled. Even sales for the Lexus RX, which topped last month's Buzz Index, gained 82.1%.
Toyota wasn't the only mover.
The top seven automakers all posted double-digit sales gains — something analysts predicted Thursday — as Honda, Nissan and Chrysler clocked sales gains beyond 20%. The seasonally adjusted annual rate amounted to just 13.8 million cars — the lowest rate since November 2011 — as discounts fell to their lowest rate in 2012. Automaker and dealer incentives combined for just 12.9% off the average new-car MSRP, according to CNW Marketing Research. That's the same as a year ago, and it snaps months of higher discounts versus year-ago levels. Meanwhile, rising MSRPs drove transaction prices up. The average shopper paid $32,382 for a car in the first half of May, up from just less than $30,000 a year ago.
At least shoppers had an easier time financing their purchases. Average interest rates and loan terms have improved from year-ago levels, according to Experian Automotive, leading the firm to note recently that automotive lending is as healthy as it was before the recession.
The rising tide lifted all of May's top 10 sellers, but it did little change their order. The Prius may have tripled sales, but that was versus a dismal May 2011 — when sales collapsed 51.4% — and it wasn't enough to retain a top 10 spot for Toyota's popular hybrid. Chrysler's Ram pickup truck, which hasn't been a top 10 player since February, returned to the list, fueled by increasing demand on both the light- and heavy-duty side. Chrysler said the regular cab had the largest percentage sales gains, though the quad cab remains the Ram's most popular configuration.
Higher sales for the Ram were emblematic of all pickups, as gas prices fell nearly 20 cents per gallon in May: Combined sales for the Ram, Ford F-Series, Chevrolet Silverado and GMC Sierra increased 26.5% in May and 14.1% for the year.
The battle of family cars in their final year, meanwhile, played out through May. Honda and Ford are gaining steam. The Nissan Altima, which beat the Honda Accord and Ford Fusion for the first three months of 2012, remains off the top 10 for the second month in a row despite an uptick in incentives. The Accord and Fusion, meanwhile, have gained in popularity despite having redesigns in the wings. Honda has done particularly well in the last two months, and time will tell if the automaker's strategy — to keep the new Accord under wraps until just before it launches this fall — has kept interest high in the outgoing car.
Here are May's top 10 best-selling cars: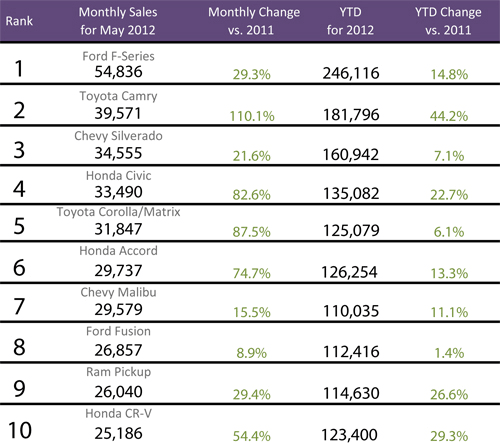 Related
See April's Top 10 Sellers
See New-Car Incentives in Your Area
More Automotive News on Cars.com