Top 10 Best-Selling Cars: November 2014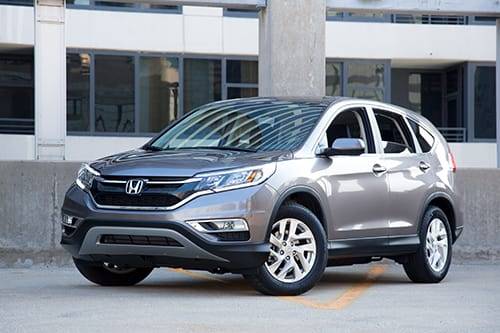 The national average for a gallon of regular unleaded is 23 cents cheaper today than it was a month ago, according to AAA. It's a whopping 51 cents cheaper than it was a year ago. Slumping oil prices in November set energy analysts abuzz and consumers charging toward pickup trucks and SUVs.
Related: November's Fastest- and Slowest-Selling Cars
Shoppers snapped up the restyled Honda CR-V like it was the last slice of pumpkin pie. It was among the fastest-selling cars in November, and sales gained 37.7 percent to make Honda's crossover the most popular non-pickup for the month. That's a seismic shift in popularity for an SUV that didn't make the top 10 list as recently as February.
Indeed, small SUVs were in Rogue — er, vogue — all month long. The Jeep Cherokee, now heavily incentivized versus its just-introduced period in November 2013, gained 66.6 percent to become Fiat Chrysler Automobile's second most popular model behind the Ram pickup. With gains from major players like the CR-V, Nissan Rogue (up 43.7 percent) and Ford Escape (up 21.6 percent), compact SUVs tacked on more than 20 percent in year-over-year sales. That's despite most of the segment's major players having similar cash incentives compared to a year-ago.
Conversely, low fuel prices drove popular hybrids and EVs into the proverbial ditch. Sales fell by double-digit percentages for the Toyota Prius, Ford C-Max, Chevrolet Volt and Honda Civic Hybrid. Only the Nissan Leaf saw more shoppers.
Here are November's top 10 best-selling cars: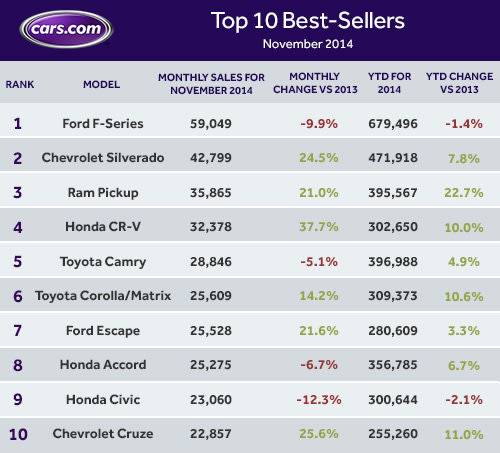 Conventional fuel-efficient segments had a mixed month. Led by the Nissan Sentra and Volkswagen's Jetta and Golf/GTI family, compact cars gained 7.6 percent in November. Their subcompact siblings — the Honda Fit, Nissan Versa, Kia Soul and their ilk — fell 7.5 percent. What's more, shoppers gave the lukewarm shoulder to midsize cars like the Ford Fusion and Toyota Camry; that segment slid 0.5 percent.
Meanwhile, the SUV heyday continued for three-row crossovers (Chevrolet Traverse, Ford Explorer, etc.) and big SUVs (Chevrolet Tahoe, Ford Expedition, etc.); both segments saw solid single-digit gains overall. Detroit's backbone segment, full-size pickups, gained about 10 percent in November. Pickup shoppers entered November on the heels of the second straight month of housing starts past the benchmark 1-million annualized mark — significant because the housing market has reached that point only one other time (late 2013) since the recession. It's the latest indicator of long-term health in construction, which is a huge driver for pickup sales.
Pickup shoppers snubbed one major player, however: the Ford F-Series. The 2015 F-150 is still en route to dealerships, and shoppers didn't see a marked uptick in year-over-year incentives for the outgoing truck. F-Series sales — of which the F-150 typically accounts for about two-thirds — slipped 9.9 percent. It turned out to be a large factor in Ford's 1.8 percent monthly sales drop.
Even as dealers rolled out the Black Friday specials, new-car prices continue to favor consumers all month long. The average car transacted for $32,631 in early November, CNW Research notes. That's down $276, or 0.8 percent, versus November 2013.
Cars.com photo by Evan Sears