Top 10 Best-Selling Cars: October 2016
CARS.COM — Ford released its October 2016 sales results this morning, putting the final piece in place for the month's top 10 best-selling cars.
Related: Ford Fire Delays Sales Report
Here they are: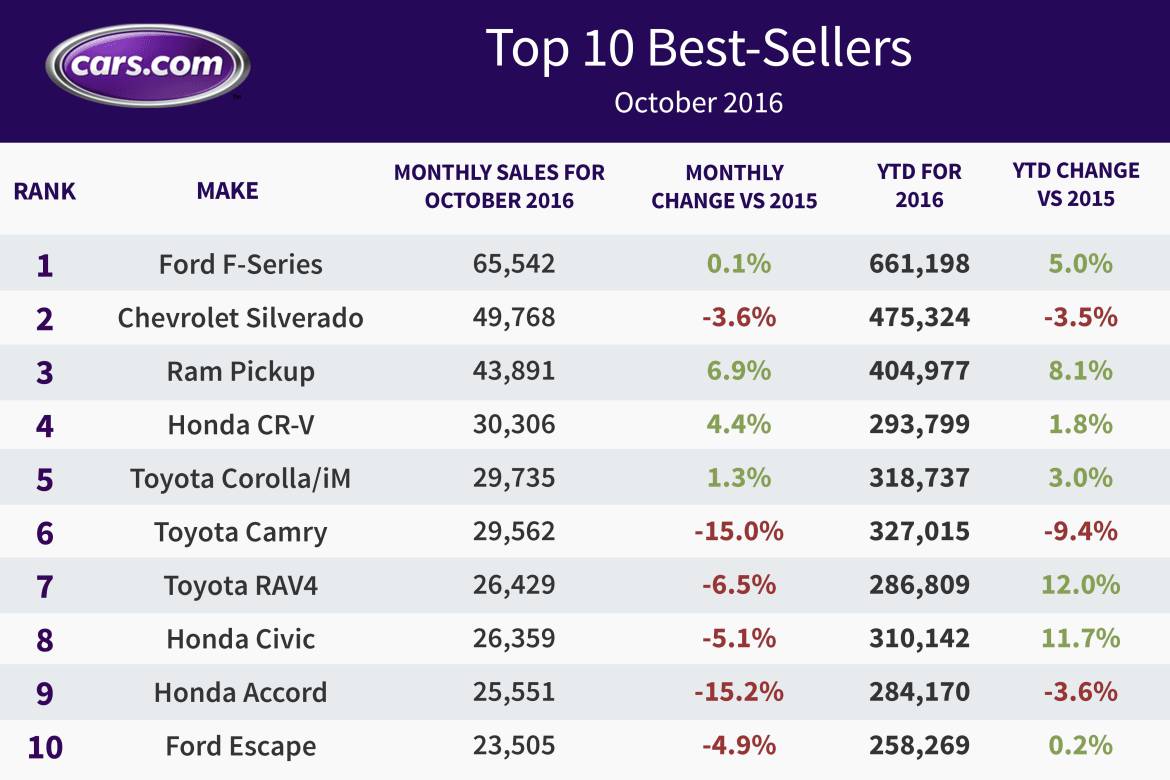 Other automakers released sales results Tuesday, but a fire Monday suspended operations at a Ford data center, delaying the automaker's sales results until today.
One advantage of running sales a day late: Full incentives, which typically aren't reported until the very end of a sales day, are on hand. And if October's J.D. Power and Associates projections gave an early indication of discounts, the latest estimates from Autodata Corp. complete the picture. Eight of the top 10 best-sellers had higher incentives in October 2016 than October 2015, according to Autodata. For six of those eight, incentives increased by more than 15 percent. Discounts more than doubled for the Honda CR-V — from less than $1,000 a year ago to more than $2,000 in October. Industrywide, incentives increased about 13 percent, Autodata said.
Despite that, sales for the top seven automakers, including Ford, fell 6 percent in October. Among non-luxury segments, even compact and subcompact SUVs — both expanding segments in recent months — cooled off. Subcompact SUVs were flat in October, while compact SUVs fell 6.5 percent. Shoppers flocked to full-size, truck-based SUVs (up 51.6 percent) and mid-size pickup trucks (up 32.2 percent), but no other major segment had double-digit growth.