Top 10 Best-Selling Cars: September 2014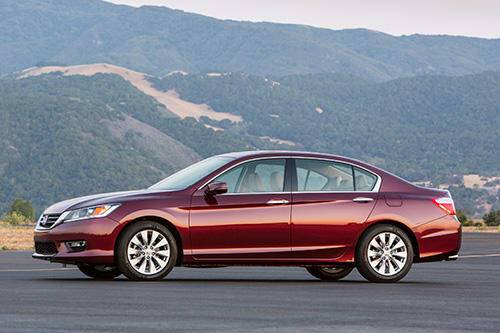 The kids went back to school, the leaves began to change colors and car shoppers in September sent new-car sales from the largest seven automakers up about 10 percent versus a depressed September 2013. That made for some significant reshuffling in the top 10 sellers. As Toyota Camry shoppers await the updated 2015 model, the Honda Accord spent its second month as America's best-selling sedan, and the Ford Escape broke in to the top 10 sellers for the first time since March 2014.
Related: What's the Most Worry-Free Car You Can Buy?
Honda, Chrysler, GM and Nissan led major automakers with double-digit sales gains. Ford sales fell 2.7 percent as the F-Series had its second straight month of declining sales ahead of the redesigned F-150 hitting dealerships. Pickup-truck shoppers apparently preferred the F-Series' competitors: Chevrolet Silverado, GMC Sierra and Ram pickup sales combined to gain 39.8 percent.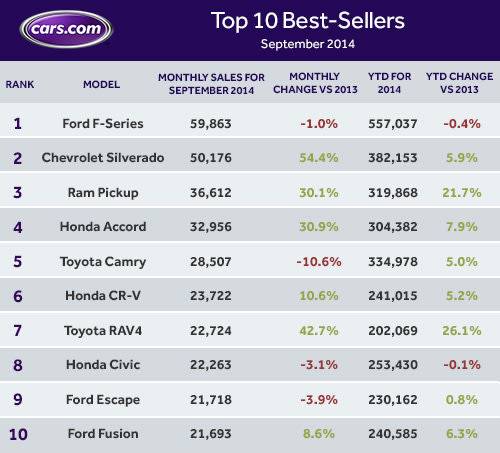 The Silverado saw the most new shoppers, as sales bounced back 54.4 percent versus a dismal September 2013. That helped lift GM sales 19.4 percent versus a bad overall month a year ago, where sales fell 11 percent. Chrysler, meanwhile, gained 18.8 percent as sales of its strongest seller — the Ram pickup — boomed 30.1 percent over a decent September 2013. That's despite similar retail incentives and inventory a year ago. Another interesting Chrysler tidbit: Sales of the age-old Jeep Patriot SUV gained 50.6 percent over an also-decent September 2013. Patriot inventory on lots went from 44 to 68 days, according to Automotive News, but year-over-year incentives changed little. Go figure.
The Patriot isn't the only small SUV gaining steam. The Toyota RAV4 had double-digit gains, and Nissan sales gained 18.5 percent in large part thanks to the redesigned Rogue, which was up 51.8 percent. That was versus a disappointing September 2013, but the redesigned Rogue has found its buyers with comparatively few incentives. Still, how much is the Rogue Select (that is, the old Rogue) padding these sales? It's hard to say. The Select accounts for a huge 43 percent of new Rogue inventory on Cars.com, and cash incentives run as high as $1,000.
Honda, meanwhile, ratcheted up year-over-year dealer incentives on the Accord — rare for the brand — and shoppers flocked to the car, to the tune of 30.9 percent more sales versus a depressed September 2013. At Honda's Acura luxury division, the new TLX had its first full month of sales and handily outsold combined sales for the TL and TSX a year ago, but that was versus a miserable September 2013 for both predecessors. The TLX is still well below TL/TSX sales from September two years ago, so we'll have to wait and see how shoppers treat it once sales ramp up.
The average new car transacted for $32,502 after all dealer and manufacturer incentives, according to CNW Research. That's down $228 versus September 2013, and it comes on the heels of used-car prices declining for their fourth straight month, according to Manheim's Used Price Index. So vehicle prices both new and used continue to ebb.
Manufacturer image