Toyota Airing Second Super Bowl Ad for Tundra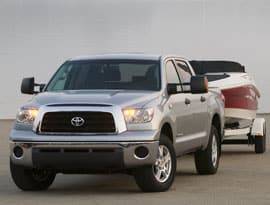 We were mildly surprised yesterday to learn that Toyota is going to air a Super Bowl spot for its all-new Venza crossover. Today, we're simply blown away that the company — which today will report its first annual net loss in history — is spending another $3 million on a commercial for its full-size pickup, the Tundra.
Two years ago, Toyota used the Super Bowl to debut the redesigned Tundra. The series of commercials were well-received, showing off the truck's capabilities in extreme tests. However, the reality of dismal sales of the truck recently — and failure to make a significant dent in the domestics' hold on the segment — make the idea of showing it off in a Super Bowl commercial puzzling, to say the least.
Titled "Killer Heat," the ad will show the Tundra in more extreme circumstances. We'll have a full wrap-up of all the big game's best and worst car commercials Monday morning, so see if Toyota can score with its two spots.