Toyota to Pay $1.2 Billion to Settle U.S. Criminal Probe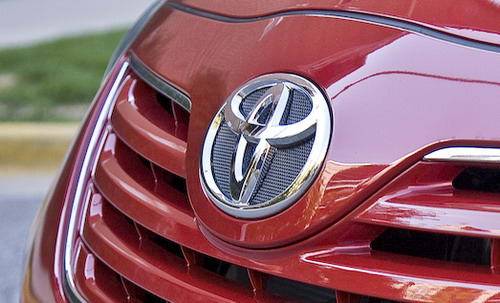 Toyota has reached a $1.2 billion settlement — yes, with a "b" — with federal prosecutors over its handling of more than 4 million recalled cars because of unintended acceleration in 2009 and 2010. In the conclusion of a lengthy investigation, the automaker will admit that "it misled U.S. consumers by concealing and making deceptive statements" about safety issues related to unintended acceleration, the U.S. Justice Department announced Wednesday.
Toyota will also have to submit to third-party monitoring of its safety policies. If the automaker pays the full fine and complies with the terms of the settlement, the government will defer prosecution and dismiss a criminal fraud charge against the automaker.
"If any part of the automobile turns out to have safety issues, the car company has a duty to be upfront about them, to fix them quickly, and to immediately tell the truth about the problem and its scope," U.S. Attorney General Eric Holder said in a statement. "Toyota violated that basic compact. Other car companies should not repeat Toyota's mistake: a recall may damage a company's reputation, but deceiving your customers makes that damage far more lasting."
Indeed, the penalty is the largest that U.S. prosecutors have ever imposed on an automaker, the Justice Department said. It's also the latest in a four-year string of costly penalties at Toyota associated with unintended acceleration. In 2010, the National Highway Traffic Safety Administration fined the automaker $48.8 million in civil penalties over the recall. That same year, Toyota settled a wrongful-death lawsuit at $10 million for a widely publicized Lexus ES crash in Southern California. The automaker expanded its recall in June 2012 to include the Lexus RX SUV. Six months later, NHTSA fined Toyota $17.35 million for delaying the Lexus recall — at the time, the highest recall-related civil penalty ever leveled on an automaker. That same month, Toyota announced it would pay $1.1 billion to settle a class-action lawsuit for depreciation among current owners, and in 2013 it settled the first of scores of other wrongful-death suits.
"In the more than four years since these recalls, we have gone back to basics at Toyota to put our customers first," Christopher P. Reynolds, Toyota's chief legal officer, said in a statement. "Entering this agreement, while difficult, is a major step toward putting this unfortunate chapter behind us."
Cars.com photo by Ian Merritt