Tricks to Help Keep the Treating Safe This Halloween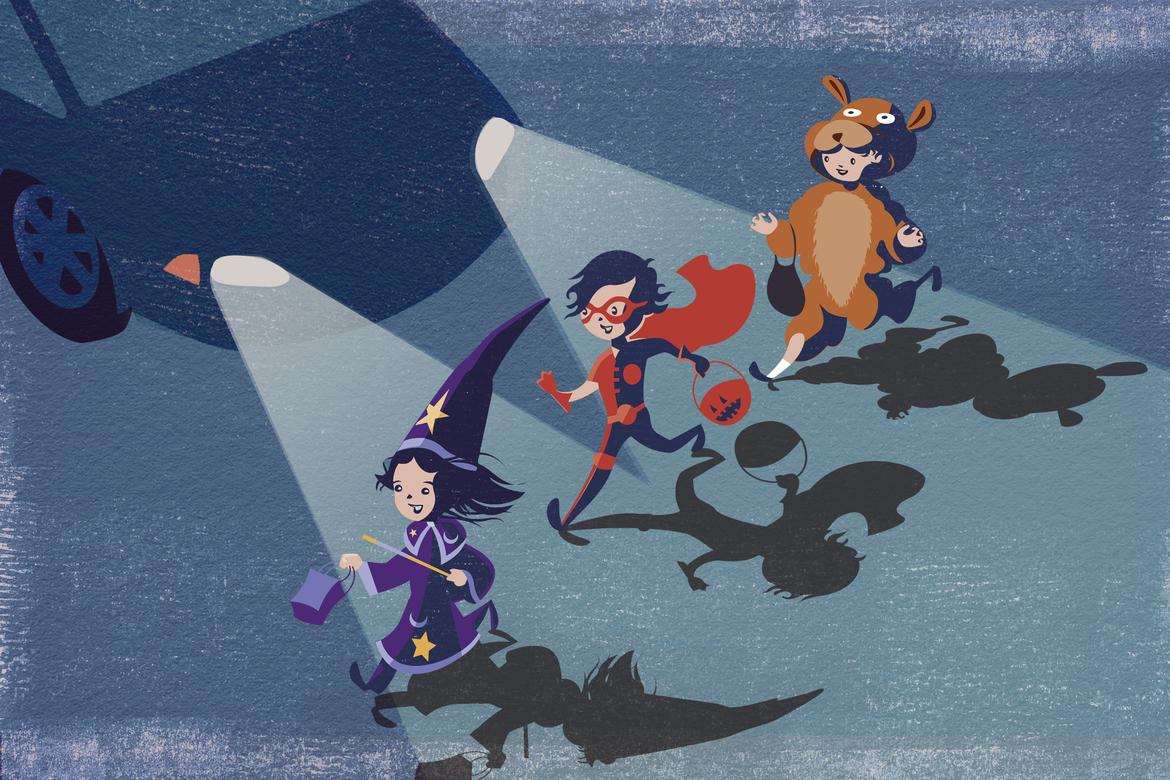 CARS.COM — We've been busily dusting off our Frankenstein costumes, watching classics such as "Nightmare on Elm Street" and testing out candy in anticipation of Halloween this year. What can we say ... we're suckers for any holiday that allows us change our identity and indulge in endless sweets.
Of course, Halloween is not completely all innocent, unbridled, gluttonous fun. It can get a spooky if you don't maintain awareness and keep a few tricks up your sleeve to be sure everyone stays safe.
Related: Car Thieves Add Fright to Halloween Night
We don't want to turn this into a total freakout show, but consider the following:
These are sobering facts. However, our love for Halloween will not cease, nor will our quest to provide you with all the tricks you need to keep Halloween as safe as possible. Consider these tricks our treat to you!
Tricks for the Kids (and Their Parents/Guardians)
Shine brightly: Apply reflective tape to children's costumes, jackets or treat sacks. Bring along a flashlight (check the batteries before you head out) to light your way or adorn the children with glow necklaces or glow sticks that are in abundance at any big-box store.
Fit in: Make sure costumes fit well and don't drag along the ground with the potential to trip everyone up. Check masks to ensure that they don't obscure vision.
Communication is key: Go over the layout of the neighborhood(s) in which you're trick-or-treating and review safety precautions with everyone in your group. Set concrete routes and meetings times if the group is splitting up or if older children are heading out on their own.
Walk the walk: Stay on sidewalks, use crosswalks to cross the streets and be vigilant about looking for cars from all directions.
Stick together: Adults or an older teenager should accompany younger trick-or-treaters. Safe Kids Worldwide tells us that everyone younger than 12 should have a chaperone with them. Older kids should travel in groups and stay together. It's more fun together anyhow.
Tech or Treat
There are also a couple of tech tricks that can help keep everyone safe.
Family Locator by Life360 (for iOS, Windows, and Android) will help parents stay connected to older kids who want to go out on their own. It's free and allows you to see your teen's location on a map on your smartphone. You can even set up virtual boundaries and receive alerts if your child ventures beyond them.
Recall Watch (for Android) tracks food recalls or you can sign up to get automatic recall information from Foodsafety.gov. While most of us at Cars.com grew up during a proliferation of urban legends about razor blades and arsenic found in some candy, surprisingly, we aren't typically that anxious about candy ingestibility. We usually just chow down. Nevertheless, since there was a huge recall of Mars candy bars earlier this year, it might be worthwhile to take a quick gander at recall information this year.
Tricks for Drivers
Halloween is on a Monday this year, when evening rush hour and the advent of treat-or-treating will coincide in some cities. This means that drivers should sharpen their awareness to keep themselves and everyone else safe on the streets.
Don't be a zombie: Look alive and be alert. The kids who are going to be flooding the streets are excited and possibly unpredictable. They're also likely on a sugar high, so the less zombie-like you are behind the wheel, the safer the ghouls and goblins on the hunt for treats will be.
Eyes up: Keep your eyes on the road and drop the distractions until you're safely parked or at home. This is pretty much a year-round rule, but somehow we find ourselves continuously compelled to remind everyone. No texting, stop live tweeting, don't update your status and you should put down that big burrito until you get home. If you don't trust yourself to ignore the temptations of your phone, download an app like AT&T's Drive Mode that sends auto-replies to incoming texts to let people know you'll get back to them when you're done driving.
Know the limit, drive within it: Obey the speed limit, particularly when driving in residential areas. In fact, slow it down even more in those residential areas, where there will likely be higher-than-normal volumes of pedestrian traffic. The likelihood of fatality increases with speed, so slowing down to 25 mph from 35 mph can literally be the difference between life and death.
No bottoms up: If you're behind the wheel, you better be sober. If you hit the postwork Halloween happy hour, have a sober friend drive, beckon an a taxi or ride-sharing service, or use public transportation.
The bottom line is that Halloween is a time for fun. As long as everyone keeps their wits about them, it remains fun. So take these tricks and get out there and enjoy while we return to our favorite seasonal exercise of testing all the different candy we're going to be handing out this year.