Up Close: Ford's Self-Parking System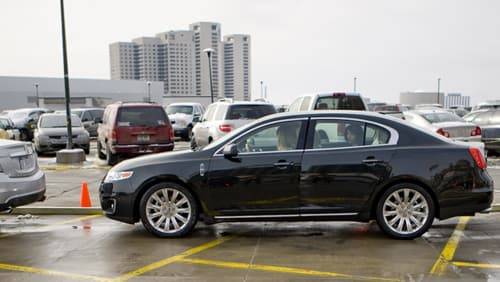 Have an aversion to parallel parking? Your ship has arrived: No longer the domain of just Lexus and Toyota, a self-parking system will debut for the 2010 model year on the Lincoln MKS sedan and MKT crossover and will probably spread throughout Ford's lineup thereafter. On the Cobo Center's rooftop parking lot at this week's Detroit auto show, Ford let us put its Active Park Assist through its paces.
Though not as elaborate as Lexus' Active Parking Guidance System, Ford's does the trick — and it's a heck of a lot easier. Parking for dummies just became parking for dummies, for dummies.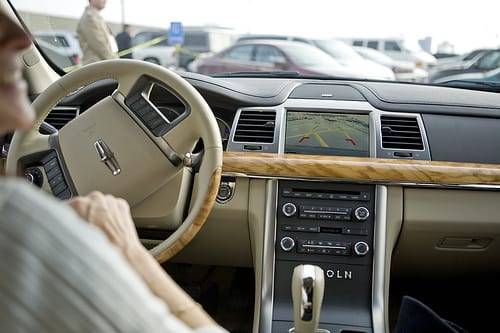 Here's why: In the MKS, you press a button beside the gear shifter whenever you're jonesin' for a spot. Ford engineer Ali Jammoul told us you need to be anywhere between 1.3 and 5 feet from curbside cars. Should you need to park on a one-way street, the system works on either side; it defaults to the right, but engage the left turn signal and it will hunt down a spot on the left.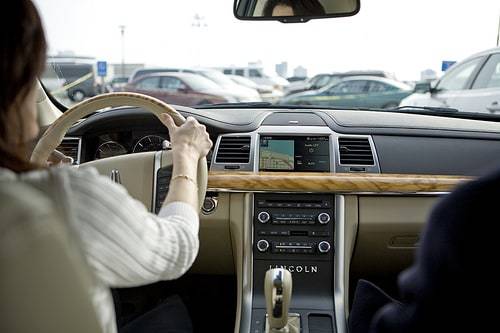 A gauge display reads "Active Park Searching" in Ford's familiar green block letters, though it won't work if you're doing more than 20 mph. (It will request that you slow down so it can do its thing, Speedy.) Pass a big enough spot, and the display announces a match: "Parking Space Found," followed by a series of commands that advance as you follow them: "Pull Forward," "Stop and Shift to Reverse," "Remove Hands" and finally "Back Up/Use Caution."
Do all that, and you should be in good shape. Ford's system uses motorized electric power steering to turn the front wheels; all you do is take your foot off the brake and let the car ease its way in. The system uses ultrasonic parking assist rather than Lexus' camera-based system, so all you do is listen for the audible beeps to quicken and go solid as you near the car behind you. (Note that Active Park Assist, like Lexus' APGS, alerts you as you approach the car behind you, but it's up to you to hit the brakes before you back into it.)
Get close enough to the car behind you, shift from Reverse into Drive, and the system spins the steering wheel and pulls forward to the car in front. The front parking sensors sound a different note than the rears, so it's easy to judge proximity from the car ahead. (Again, you're in charge of the brakes.) If you haven't quite straightened out — possible if it's a particularly tight space — it will keep turning the wheel to readjust as you move forward and back. Jammoul said the program can handle as many as 10 forward/backward adjustments. Austin Powers could really have at it.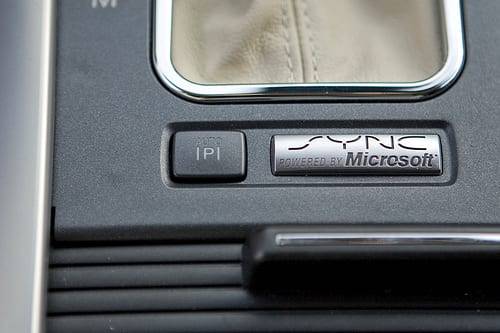 Besides assisting in both directions — APGS backs you up to where you need to be, but it's up to you to straighten out — Active Park Assist can park on hills. Lexus relies on the car's idle creep to back into the spot, so if the incline proves too much, you're out of luck. It deactivates if you press the gas. Ford's system allows you to accelerate to 6 mph if necessary — "pretty fast" for parallel parking, Jammoul said.
What doesn't it do? Back into perpendicular spaces, for one. APGS does that, and Jammoul said Ford is working on the feature. As of now, Active Park Assist can work without a backup camera or navigation screen, though having Lincoln's optional one certainly boosts driver confidence during the whole maneuver. It uses ultrasonic park assist, which means all you have to do is listen for the beeps — though we should add that not all sonar parking systems we've tested have warned us of out-of-the-way hazards, like cement parking blocks.
Not needing a camera should keep the costs down: Lexus' $700 APGS requires the $500 Intuitive Parking Assist on the extended-length LS 460L, which comes with a standard backup camera. On the regular-length LS 460, you also need to purchase the backup camera and a navigation system, so all the features could add up to as much as $3,815. Toyota will offer APGS in the redesigned 2010 Prius, though, so pricing may come down.
Lincoln hasn't priced Active Park Assist yet, but Jammoul promised it would be "very reasonable" and "more competitive" than APGS. Rear parking sensors are standard on the MKS, but Active Park Assist also requires forward parking sensors; on the '09 MKS they're part of the $1,395 Technology Package, which also includes HID headlights, rain-sensing wipers and push-button start. Stay tuned for full pricing, which we'll report once we get it.