Volkswagen Offers 0% on All 2008 Models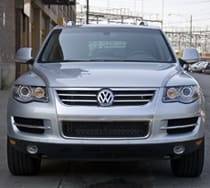 Volkswagen's incentives are typically some of the least dramatic out there. In a market where most car brands are forced to advertise huge cash-back figures — especially on their SUVs and large trucks — Volkswagen rarely offers too much on the surface, despite sluggish sales of many of its aging models.
That's not the case this month. Volkswagen is offering 0% financing on all of its 2008 models until Sept. 30. Some are available with that rate over 60 months — including the Passat, Beetle convertible, GTI and Touareg — while some are available with 0% over 36 or 48 months. Visit Volkswagen's site for a full list of deals.