VW Routan Goes on Production Hiatus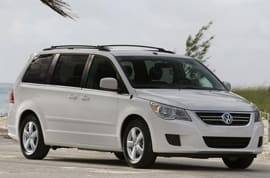 It appears that neither an inventive ad agency nor Brooke Shields was enough help for the Volkswagen Routan. The Windsor Star is reporting that VW has asked Chrysler (which builds the Routan) to cease production of the minivan for one month, starting Feb. 2.
VW says it needs a reprieve to adjust its inflated inventory levels. Currently, VW has a 148-day supply of vehicles on dealer lots. The Windsor Assembly Plant in Windsor, Ontario — which also builds the Chrysler Town & Country and Dodge Grand Caravan — builds about 300 Routans a day.
According to The Windsor Star, an estimated 29,000 Routan vans have been distributed to VW dealers, and only a few thousand have sold. The Routan went on sale this fall and sold 3,387 copies in 2008. Just 899 sold in December.
VW hoped to sell 30,000-40,000 Routans a year — hence the massive inventory buildup. The worsening recession probably impacted the Routan's chances of success.
At $24,700, the Routan is priced properly in the minivan segment, though the Toyota Sienna and Dodge Caravan are less expensive. VW is currently offering $1,000 off the purchase or lease of a 2009 Routan. We'd be willing to bet dealers would offer better deals, though.
Routan off-line for February (The Windsor Star)