VW Touts Jetta TDI's World-Record 58.52 MPG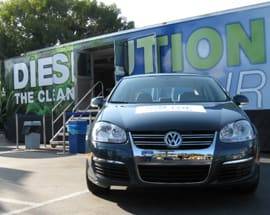 For the past few weeks, Volkswagen has been hyping a road trip. One couple, Helen and John Taylor, set off to cross the country in a new 2009 VW Jetta TDI and traveled across the lower 48 states in 20 days, covering 9,419 miles. Their diesel-powered Jetta returned an average of 58.82 mpg, which set a Guinness World Record (previously 51.58 mpg).
VW was a little miffed when the EPA rated its new TDI 30/41 mpg city/highway. Clearly the diesel engine is capable of more than that on the highway. One user on the EPA's website rated their average mileage at 49 mpg in mostly highway driving. However, the Taylors have admitted that they employ added mileage-saving techniques, like watching their speed. We don't know if that should be considered "real-world" testing.
While new EPA rules have brought mileage estimates much closer to reality for hybrids and gasoline engines, new diesels may have gotten the shaft. Recently, Popular Mechanics also conducted a road test and found the Jetta TDI to get about 32/45.4 mpg city/highway. The publication pitted it against a Toyota Prius, which scored lower on the highway. 
The truth about mileage probably rests somewhere in between. We'll test a TDI sometime in the near future and will report our findings right here. If you have a new TDI please let us know what kind of mileage you're getting.