We Now Have Full Pricing Details for the 2019 Ford Ranger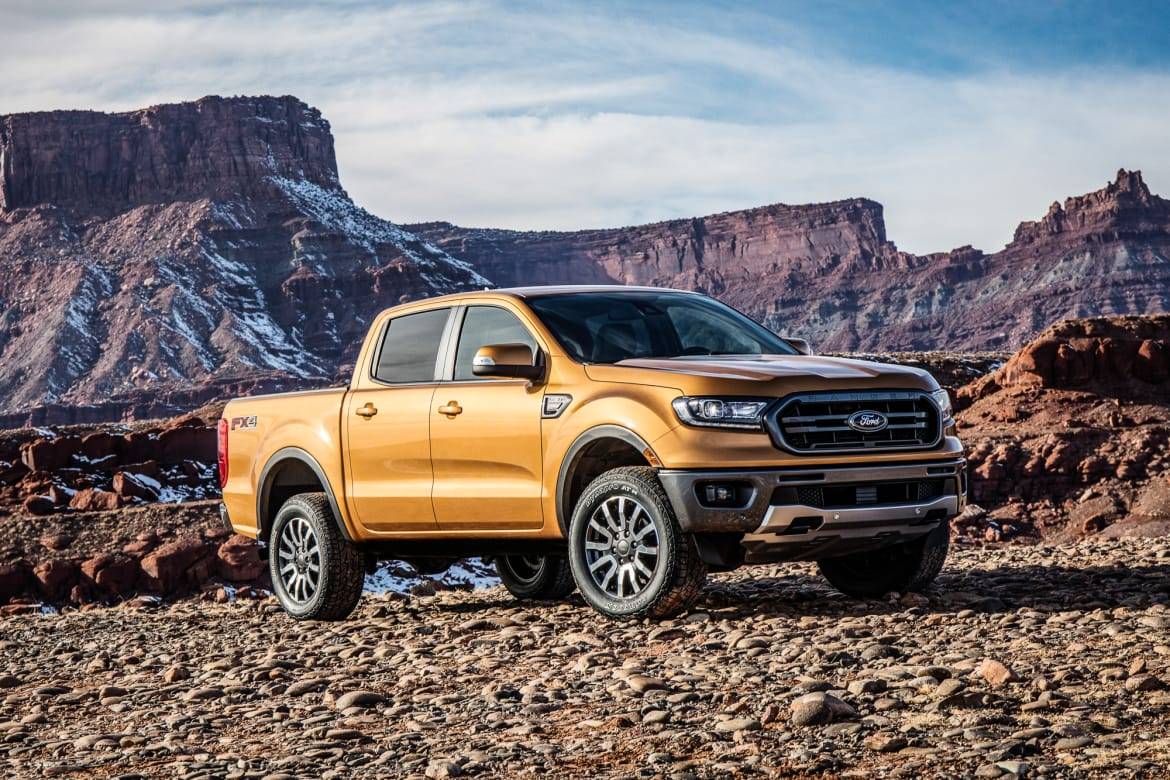 Ford's "all-new" 2019 Ranger mid-size pickup truck finally has pricing to go along with the excitement about its return to the U.S. after eight years of being sold practically everywhere else in the world. Prices, including a $1,095 destination fee, start at $25,395 for a 4×2 Ranger XL with an extended cab (SuperCab in Ford parlance) and a 6-foot bed.
Related: What We Want in the Ford Ranger Raptor (If We Ever Get One)
The Ford Ranger's online configurator is now available after some earlier hiccups, and build-your-own preordering is open. The truck will be available at launch in three trim levels: XL, XLT and Lariat. All trucks will come equipped with a choice of extended cab or crew cab — extended-cab trucks get a six-foot bed while crew-cab (four-door SuperCrew) trucks get a 5-foot bed — and are available with either 4×2 or 4×4 drivetrains. No matter the configuration, every Ranger on offer will be powered by a turbocharged 2.3-liter EcoBoost four-cylinder engine mated to a 10-speed automatic transmission.
The price of entry, for the 4×2 Ranger XL extended cab, is $25,395. Switching out the extended cab for a crew cab ups the price to $27,615. Adding four-wheel drive to the XL makes the extended-cab model $29,555 and the crew cab $31,775. Upgrading from two- to four-wheel drive is a $4,160 premium, while switching from extended to crew cab is an extra $2,220.
Those price increases drop slightly for XLT and Lariat models: Four-wheel drive adds $4,000 and the crew cab adds $2,175. XLT models start at $29,035 for 4×2 extended-cab versions; 4×2 crew cab XLTs start at $31,210. Four-wheel-drive XLTs will be $33,035 or $35,210 for extended- and crew-cab versions, respectively.
Top-trim Lariat Ford Rangers will all have sticker prices of more than $30,000. The 4×2 extended cabs can be had for $33,305, while $35,480 gets you a 4×2 Lariat crew cab. For 4×4 Lariat models, extended-cab versions start at $37,305 and crew-cab versions start at $39,480. All prices listed here include Ford's $1,095 destination charge.
Less than $26,000 including destination isn't a bad starting price for what promises to be — we haven't driven the Ford Ranger yet — a handy mid-size pickup, particularly relative to the rest of Ford's vehicle lineup. That price won't even get you a fully loaded EcoSport subcompact SUV, another global import that recently arrived on our shores.
However, shoppers can buy the aging Nissan Frontier for less than $20,000, and the Chevrolet Colorado starts at just over the $21,000 threshold. It will be interesting to see if the extra $5,000 to $6,000 right off the bat is reflected in terms of value in the new base-level Ranger.
There's also no word yet on when or whether other trim levels might make it to the U.S., including more upscale trims like those available on Ford's larger trucks, the Wildtrak FX4 off-road package or the Ranger Raptor that's just started rolling off the line in some foreign markets.
Ford hasn't announced a press drive for the Ranger yet, but we hope it will happen before the end of 2018. When it does, we'll be sure to bring you all the details.
Cars.com's Editorial department is your source for automotive news and reviews. In line with Cars.com's long-standing ethics policy, editors and reviewers don't accept gifts or free trips from automakers. The Editorial department is independent of Cars.com's advertising, sales and sponsored content departments.