What's the Most Affordable Car in 2014?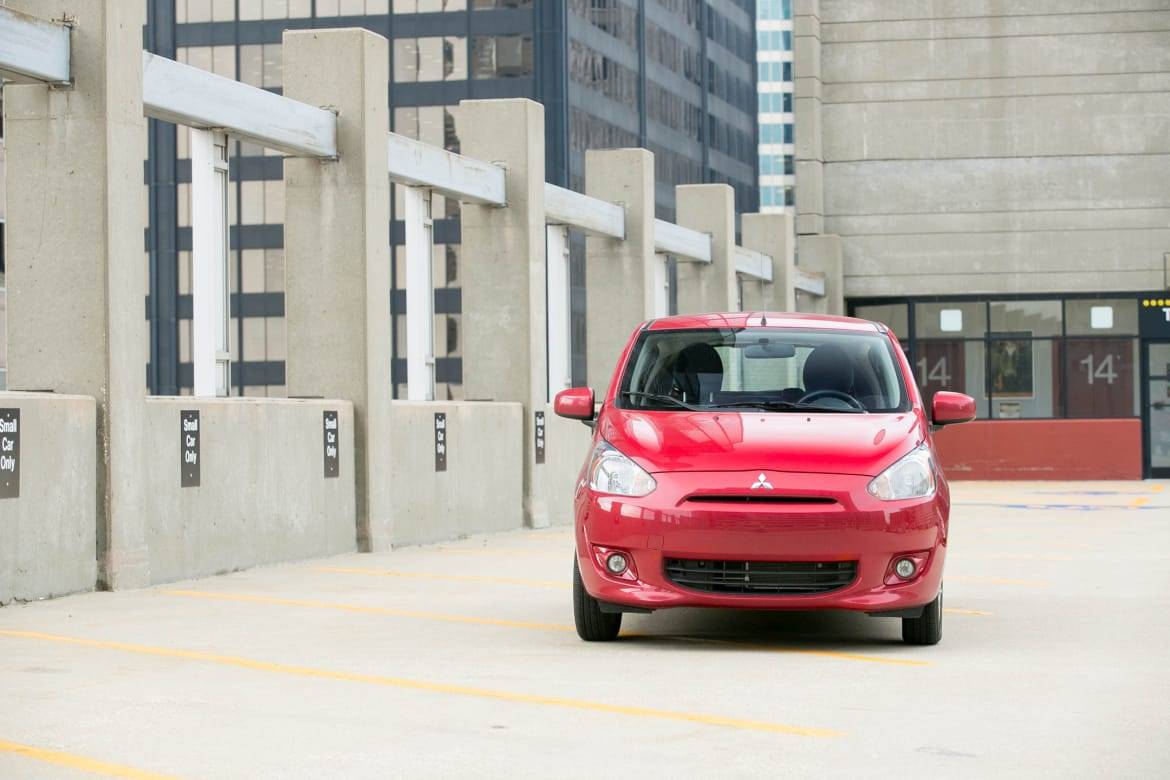 Shoppers may face legitimate sticker shock when they're shopping for a new car. TV and radio advertisements may lead them to believe that new cars all get at least 35 mpg for less than $15,000, but the price of entry for even a modestly equipped new car is well above that.
Related: What's the Most Affordable Compact SUV for 2014?
That's why we've taken the cars with the lowest sticker prices and added a dose of reality. A vast majority of buyers never consider buying a car with a manual transmission (often the standard equipment on inexpensive new cars), so right out of the gate the car they're shopping for costs significantly more than they thought it would. Opting for an automatic transmission can cost $1,000 or more.
Our other requirements for this most affordable car list included power windows and door locks (pretty common in all cars these days) as well as Bluetooth capability and USB port(s). Those last two may seem trivial to some, but Bluetooth is becoming essential to abide by the many hands-free-phone laws, and USB is vital to a generation attached to its digital music.
In our consideration, we include five years of gas costs. That can make a seemingly expensive car that gets great mileage land much higher up the list of affordability; see the Toyota Prius c hybrid below as a test case. It had the highest starting price (MSRP plus a destination fee) of the group, but the least expensive fuel costs.
We capped our total costs at $28,000 to keep the list focused on the most affordable on the market.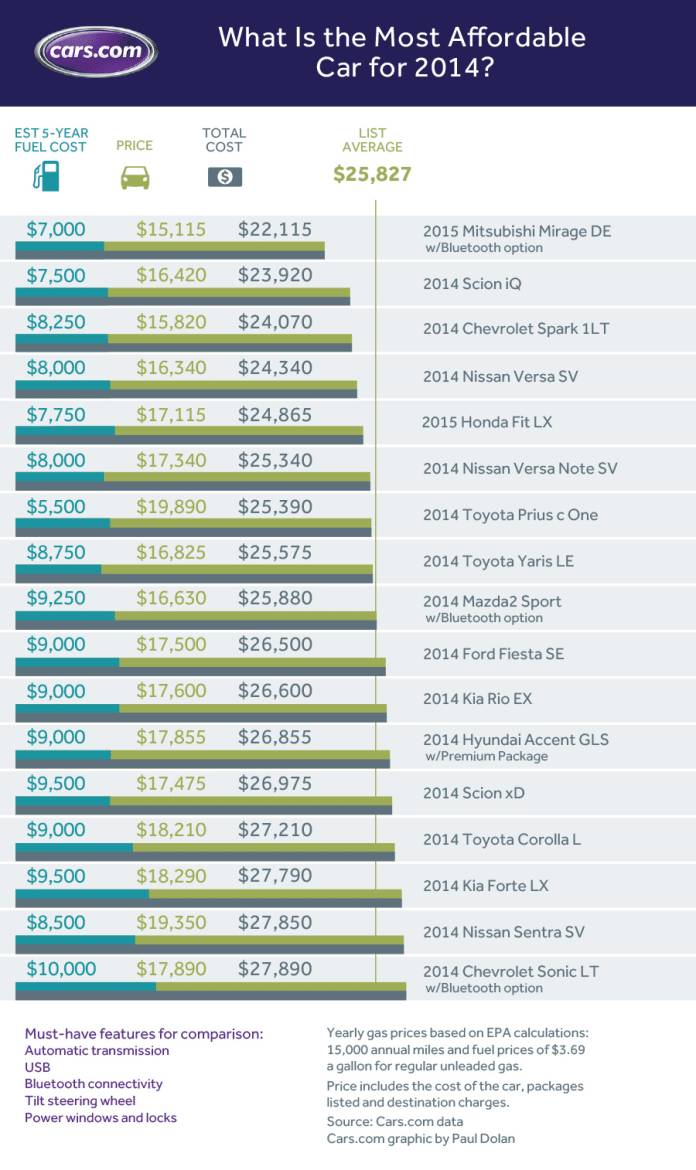 The Mitsubishi Mirage is a small car that has a low starting price, decent features and incredible fuel economy, which put it firmly at the top of this list by nearly $2,000. That is a considerable margin compared to Most Affordable lists we've done, with some being decided by less than $100. The Mirage and the other models that make up the top four on this list might not be the cars we'd recommend for everyone, however, as there are always tradeoffs when purchasing a vehicle in any segment.
We found some interesting tidbits from this group.
Mileage matters a lot. Gas costs helped the Prius c, but it knocked the Kia Soul, which cost $17,495 after adding the $1,800 automatic transmission and a destination charge, off our chart entirely.
It costs $2,150 to fuel a Kia Soul for a year and $1,100 to fuel a Prius c, according to the EPA's website, fueleconomy.gov.
The three most affordable cars on our list are incredibly small in size. It would cost less than $1,000 over five years to go from the smallest Scion iQ to a significantly roomier Honda Fit.
While most cars on the list are subcompacts or smaller, four compacts still came in under the wire.
It would cost just an additional $235 over five years to move from a Scion xD to a Toyota Corolla, or an extra $3.91 a month in payments.
Only five of the cars on the list needed to have option packages added to their trim level to meet our requirements, and all five of the option packages were needed to add Bluetooth connectivity.
Toyota had three cars on the list, and five if you include its Scion brand. Honda had one, as did Ford, Mazda and Mitsubishi.
Editor's note: The chart above was updated to account for a $100 increase in the price of the Mitsubishi Mirage's CVT option for the 2015 model year.