Where Are You Most Likely to Die in a Truck Crash?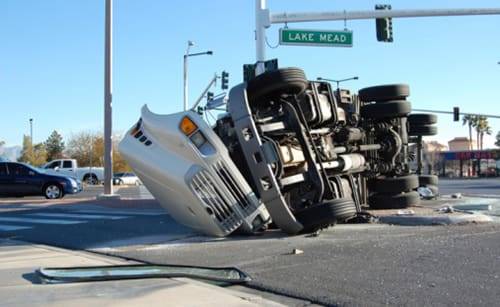 "A lot can happen in the middle of nowhere" was the ominous tagline for the movie "Fargo," named for the city in North Dakota. Indeed, despite being nation's third-least-populous state, the Peace Garden State is also where drivers run the greatest risk of being killed in a collision with a large truck. That's according to data from the National Highway Traffic Safety Administration's National Center for Statistics and Analysis measuring the total number of large trucks involved in fatal crashes in proportion to the vehicle population as a whole in 2012.
Traffic Deaths Down 3 Percent in 2013
The total number of fatal vehicle crashes in the U.S. in 2012 (the latest figures available) was 45,637, with large trucks such as semitrailers accounting for 3,802, or about 8.3 percent. North Dakota roadways saw 218 fatal crashes overall, of which large trucks were involved in 44, or 20.2 percent. Although both deadly crashes and deadly crashes involving large trucks in North Dakota are on the low end in terms of the raw numbers, the proportion of deadly accidents involving trucks is the nation's highest. Only a dozen places among the 50 states and the District of Columbia had a large-truck crash fatality figure of 10 percent or higher.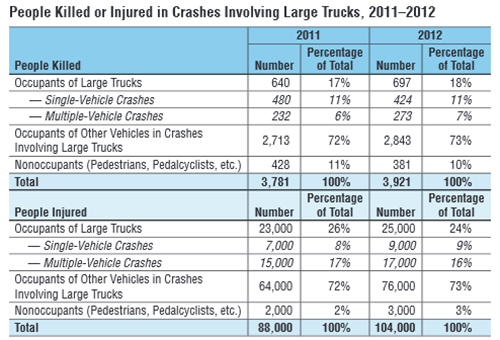 North Dakota may have the highest ratio of large-truck-related deaths, but Texas lays claim to the greatest percentage of the nation's deadly truck accidents overall. The Lone Star State counted 4,607 fatal accidents, 543 of which involved large trucks; that's 11.8 percent of the state's total fatal crashes, but 14.3 percent of the total U.S. truck deaths compared with North Dakota's relatively puny 1.2 percent. Texas leads in this national figure by far as the only state accounting for a double-digit percentage — more than doubling that of the next closest state, California, with 6.4 percent of the nation's truck deaths.
The 3,921 traffic deaths involving large trucks in 2012 was a 4 percent increase over 2011, NHTSA reported. Nearly three-quarters of those killed in these incidents were occupants of vehicles other than the trucks involved, while 18 percent were occupants of large trucks and the balance nonoccupants. That represented a 5 percent uptick in the number of occupants of other vehicles and a 9 percent spike in large-truck occupants.
Though way down since 2003, between 2009 and 2012 the number of large trucks involved in fatal crashes rose steadily by more than 18 percent to 3,802. That's despite the number of registered large trucks shrinking by more than 6 percent to less than 10.3 million from 2009 to 2011, and the total miles traveled by large trucks dropping off by more than 7 percent in that time (2012 figures were not available for truck registrations or mileage). Likewise, the number of injury crashes involving large trucks spiked by more than 42 percent to 77,000 from 2009 to 2012.
The states in which you're statistically most likely to be killed in an accident with a large truck, followed by the percentage of truck involvement are as follows:
North Dakota, 20.2 percent
Wyoming, 16.8
Nebraska, 14.7
Iowa, 13.2
Oklahoma, 13.1
Texas, 11.8
Arkansas, 11.5
Kansas, 11
Louisiana, 10.7
West Virginia, 10.4
Indiana, 10.3
Minnesota, 10
The states in which you're least likely to die in a truck accident are:
Massachusetts, 3.1
2. Hawaii, 3.4
3. Rhode Island, 3.4
4. New Hampshire, 4.1
5. Connecticut, 4.2
According to NHTSA statistics, large-truck drivers involved in fatal crashes were significantly less likely than passenger-car drivers to have had previous license suspensions or revocations, and dramatically less likely to have been legally drunk. Federal authorities recently took measures to address another contributor to truck crashes: driver fatigue. The U.S. Department of Transportation's Federal Motor Carrier Safety Administration earlier this year released findings from an extensive third-party study showing that new rules increasing the amount of rest truck drivers must have between trips are effective in combating fatigue.
"Scientists measured sleep, reaction time, sleepiness and driving performance in the study," a DOT statement reported. "They found that drivers who began their work week with just one nighttime period of rest, as opposed to the two nights in the updated 34-hour restart break exhibited more lapses of attention, especially at night; reported greater sleepiness, especially toward the end of their duty periods; and showed increased lane deviation in the morning, afternoon and night."
The 34-hour restart provision in the hours-of-service rules for truck drivers mandates two nighttime periods from 1 a.m. to 5 a.m. to provide sufficient driver-recuperation time if they work more than 70 hours in a week, a figure said to apply to less than 15 percent of drivers. Projections show the rule will prevent 1,400 crashes, 560 injuries and 19 deaths each year.
Images by Carmen Sorvillo/iStock/Thinkstock and the National Highway Traffic Safety Administration