Why Current Leaf Owners Should Hate the 2013 Model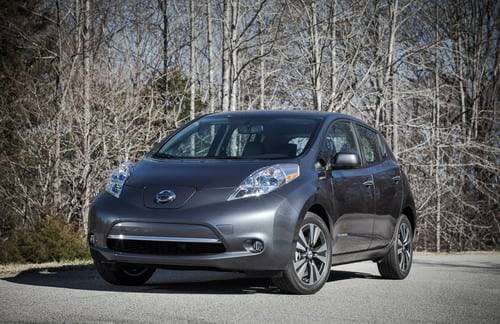 After 48 days on the market, Cars.com sold our long-term 2011 Nissan Leaf SL for just $19,000 in November 2012. Such was the result of aggressive federal and state tax incentives on the $35,665 all-electric hatchback, as well as weak demand in a market slow to embrace plug-ins. After all, Nissan sold fewer than 20,000 new Leafs in 2011 and 2012 combined. The Altima sold 15 times that figure in 2012 alone.
That was before Nissan introduced a significantly improved 2013 Leaf with more cargo space, higher-end luxury features and charging times cut nearly in half for most trim levels. In our original Leaf review, we warned that future updates could sink resale values for early owners. That appears imminent now and lower pricing could exacerbate it.
Nissan also lowered the Leaf's price $6,400 thanks to a new, stripped-down base trim level. Even existing SV and SL trims dropped $3,380 and $2,410, respectively, versus last year's equivalents. Credit a new Nissan assembly location in Smyrna, Tenn., which shelters the Leaf from currency fluctuations that hammered the Japan-imported 2011 and 2012 models. It also allows Nissan to enjoy cost savings from rolling the Leaf off the same assembly line as the Altima and Maxima, spokesman Brian Brockman said.
It's good news for electric-car fans, and it should help the Leaf's torpid sales pace. But early Leaf owners may get the short end of the stick.
"A significant lowering of the new car price will definitely put downward pressure on used Leaf values," Eric Lyman, vice president of editorial at residuals forecaster ALG, told us. "If you're a consumer shopping for a Leaf, that used Leaf just became less attractive because the gap in price between new and used is narrowed."
'Cell-Phone Effect'
Such is a common thread among technology-dependent products.
"You're going to have that cell-phone effect," AutoPacific analyst Dave Sullivan said. "Two years from now, a 2011 lease is going to look kind of like a dud."
But comparatively fewer people bought Leafs. Nissan opened sales in early 2011 with leases offset by the tax credits for as low as $349 a month, enticing many shoppers toward leasing rather than owning.
"People weren't really buying them," Sullivan said. "I don't really know if anyone will take a bath."
For current owners looking to sell, there's still some hope — the less-expensive 2013 Leaf won't arrive until next month. A 2011 Leaf SL with fewer than 20,000 miles averages a listing price of $22,246 in Cars.com's national inventory. That's $4,824 less than the original price after a destination charge and a $7,500 federal tax credit. Put another way, a 2-year-old Leaf SL lists for roughly 82% of its original starting price, assuming you took advantage of the tax credit.
Compare that to a Nissan Altima 2.5 S sedan. Examples with fewer than 20,000 miles average $17,419, or $5,771 less than their original starting price with destination. That's just 75% of the original value and significantly worse than the Leaf.
We reported that EVs in general might take a hit in resale value, but time will tell just how much that affects the 2011-2012 Leaf. The good news for Leaf fans? Pricing for the 2013 Leaf falls "more in line with consumer expectations," ALG's Lyman said. That bodes well for resale value of new Leafs going forward.
Swappable Hardware
There's another way Nissan or other EV makers could protect resale value: allow current owners to swap in the latest technology. Many carmakers already offer upgradable multimedia systems, but EV hardware — onboard chargers, lithium-ion battery packs and the like — plays far more into the overall value of the car.
"What if you could unplug your onboard charger that's underneath your car, plug in the next latest and greatest one and cut your charging time in half?" Sullivan asked. "Then you know the residual values will be able to hold steady, and people will not feel like they're losing out by not driving the latest piece of technology."
Nissan's Brockman sees similar possibilities. "Three years down the road, if the battery technology has increased to give you 150 miles of range, 200 miles of range instead of 100 miles of range, can somebody come in and buy the battery pack?" he asked. "We haven't really addressed that yet."
But "additional battery options and replacement programs are certainly some things that a small group of owners have shown an interest in," Brockman later said in an email. "If it is technically feasible in the future, we will consider it."
Related
Today's Electric Cars Could Sell for Less Tomorrow
Nissan Lowers Leaf Price $6,400
More Automotive News