Would We Buy a 2014 Jeep Cherokee Again?
We racked up 18,409 miles in Cars.com's 2014 Jeep Cherokee during an eventful, yearlong test of the quirky SUV. Many of the frustrations with our four-cylinder, basic all-wheel-drive Limited model stemmed from its nine-speed automatic transmission, a highly technical unit designed to improve fuel economy. The transmission was one of the reasons we bought the Cherokee, as was the crossover's polarizing styling that, now, doesn't look quite as weird a year later.
Related: Follow Our Long-Term Fleet
We were prepared for transmission issues considering the Cherokee's launch was delayed for additional transmission testing and refinement, but an engine replacement at 13,300 miles was one problem we didn't see coming. The poor little 2.4-liter four-cylinder suffered from excessive oil consumption and low compression. Even so, the Cherokee proved to be a favorite for road trips and certainly got a workout on several long-distance trips. But after all the good and the bad from the last year, would we buy the Cherokee again?
Our editors weigh in below.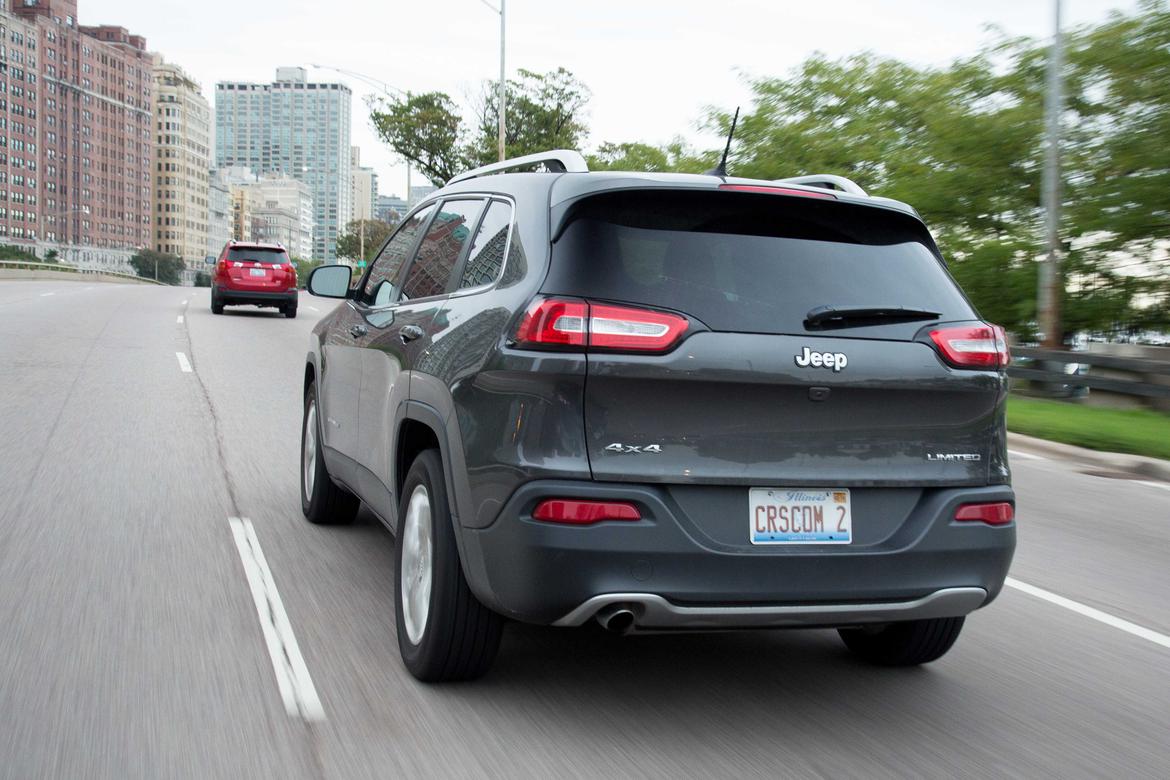 Joe Bruzek, road test editor
No. It's such a shame our Cherokee's four-cylinder engine and nine-speed transmission were basket cases. Otherwise, the car's interior is stylish and comfortable, the ride quality is fantastic and when it's not clunking into gears or straining uphill, the Cherokee is overall just a pleasant, modern SUV to drive. Unfortunately, moments where the Cherokee drove normally were fleeting.
Jennifer Geiger, assistant managing editor
No. I went into our Cherokee purchase optimistic - it looked great, had a comfortable interior, my favorite multimedia interface and seemed just right in terms of size. It ended up delivering in all those areas but was a big letdown in many others. In terms of reliability there's no way I could recommend it given the problems we've had to contend with. The Uconnect glitches, odd transmission behavior and engine repairs made for a pretty disappointing experience.
Mike Hanley, senior editor
No. While I did like aspects of our long-term Jeep Cherokee like its comfortable ride, nicely appointed interior and easy-to-use multimedia system, its balky nine-speed automatic transmission is a deal-breaker; I'm tired of putting up with its lack of refinement. Plus, the fact that Jeep replaced the Cherokee's four-cylinder engine at the 13,300-mile mark doesn't give me a whole lot of confidence in this SUV's long-term dependability.
William Jackson, assistant managing editor
No. There's a lot to like about the Jeep, but driving it ain't one of them. The transmission and engine just weren't up to par. It's really a shame, too, because the Uconnect system is easy to use. I liked how much cargo space it had despite being a fairly small car. It was great on the camping trip I got to take it on. And, once it got up to speed on the highway and the engine wasn't called on to accelerate and the transmission wasn't asked to shift, it was a comfortable car to ride along in. I want to like the car more than I actually did. But I wouldn't buy it again.
Kelsey Mays, senior editor
No. I'll miss the Cherokee's smooth ride and lush cabin materials, but that bear of a drivetrain has to go. I still find the Cherokee's styling too oddball, but over the year it became a non-factor. Inside, the Uconnect system seemed to pick some latency in our year with the car, which suggests that even the best multimedia systems - and Fiat Chrysler Automobiles' Uconnect is one of them - still age like a smartphone.
David Thomas, managing editor
No. The Cherokee certainly excelled at doing what most shoppers want. It provided a quiet and comfortable ride with plenty of space and cargo room for the class in a stylish package inside and out. The lackluster transmission and the repeated headaches from the powertrain, though, are showstoppers. It would be impossible for me to recommend it over the competition because of the reliability issues.
Joe Wiesenfelder, executive editor
No. The drivetrain problems can't be overlooked, though I think I'd go for the V-6. I can live with modestly powered or even underpowered, but the hesitation and balky shifting are deal breakers. I formed this conclusion before the engine needed replacement.