Year-End Maserati Incentives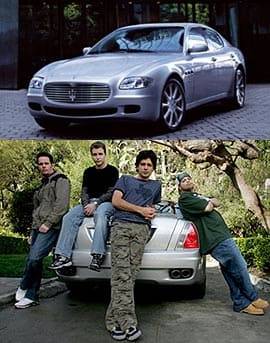 Holiday sales and incentives are usually meant to clear out excess year-end inventory and make way for next year's models. However, we rarely — and we mean rarely — see an exotic manufacturer offer such deals. Yet here we are, reporting that Maserati will offer special financing on remaining 2006 Quattroporte sport sedans. Or as you may know it, the car from "Entourage."
You can now finance a 2006 Quattroporte — which starts at $103,700 — for 1.9% over 60 months or 2.9% over 72 months. Compared to the average car-loan rate of 6.96%, that saves you close to $15,000 over the course of the loan.
These are still Maseratis, though, and dealers don't have fleets of them on their lots. Many dealers might not have any, while others will have only a few on hand; that's just the volume these specialized shops work in. Interested buyers have to hurry: The deal ends Dec. 31.
In 2007, the Quattroporte will get a new automatic transmission that reportedly is a significant upgrade for the non-sporting enthusiast, but we won't know more about its performance credentials until the 2007 debuts in Detroit next month.