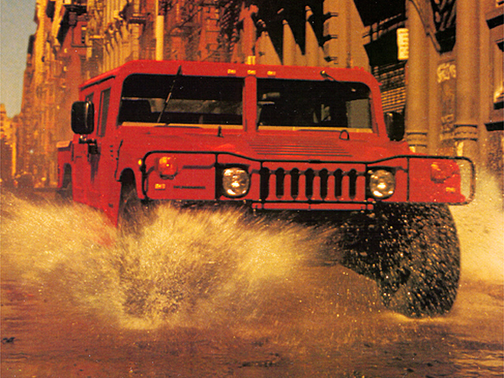 Key specs
Base trim shown
4 trims
Starting msrp listed lowest to highest price
1998 Am General Hummer review: Our expert's take
Some people think Dennis Rodman of the Chicago Bulls is a little weird because the color of his hair changes like a chameleon, he has tattoos all over his body (and those parts not tattooed are pierced) and, on occasion, he wears a wedding gown.
The hair, tattoos, piercings and attire don't bother us at all. But what makes us think that perhaps Rodman isn't playing with a full deck is that the man owns a Hummer.
Rodman is a terrific basketball player, but when it comes to vehicles, he is a loon.
We had the opportunity to test drive the Hummer or Humvee or whatever you want to call a vehicle that's as wide as it is tall that's made in Mishawaka, Ind., just down the road from South Bend.
In fairness to Hummer, prospective buyers are warned by manufacturer AM General, that the vehicle "is not for everyone."
Only those who belong to one of "four distinct psychographic" categories, AM General says, should even consider a purchase. Those four categories are Discerners, Conquerors, Realists and Adventurers.
To determine in which, if any, category you belong, you can visit the AM General Web site at www.hummer.com to take a test to establish yourself–as if Discerners and Conquerors don't know already.
But we digress.
The Hummer is like a Chevrolet Corvette, Dodge Viper, Plymouth Prowler or Volkswagen Beetle. You have to get behind the wheel of one only once to put yourself in the same seat as such celebrity owners as Rodman, actors Arnold Schwarzenegger, Erik Estrada and Lorenzo Lamas, boxing promoter Don King, media and sports mogul Ted Turner, rock drummer Rickky Rockett and rapper Coolio.
Based on that crew we realized why you want to put yourself in the seat "only once."
But we digress.
Hummer started life as a tool of war– Desert Storm, or as they say in Hollywood, the war Oliver Stone somehow missed.
The two heroes of that Persian Gulf War, of course, were Norman Schwarzkopf and the Hummer, though only Schwarzkopf got interviewed by Barbara Walters.
Based on Humvee's renown in serving our troops, AM General decided to build a civilian version in which the camouflage exterior was covered in red or yellow or some other such alluring paint finish. Oh, and add a radio.
Hummer comes as two-door hardtop, four-door hardtop, four-door open top and four-door hardtop wagon. We tested the latter.
The first thing we noticed when the Hummer arrived is that it filled the driveway. The second thing we noticed is that it fills the lane of the highway, too. Hummer is 6 feet wide and 6 feet tall.
One disadvantage of a 6-foot wide vehicle is that you need to equip yourself and your front-seat passenger with cell phones to converse because you can barely see your companion.
Our Hummer came with a 6.5-liter, 195-horsepower, turbo diesel V-8. If this is the powerplant used in the Gulf War, we know why Saddam lost: His troops went deaf from all the commotion from the Hummers. Hard to figh t a war when you must stop and ask, "Say what?"
The extremely noisy diesel is another reason Hummer occupants need cell phones: It's nearly impossible to communicate over the engine's roar.
Though 6 feet wide and 6 feet tall and looking as if the entire U.S. military could fit inside, Hummer offers scant interior room and even less comfort.
Upfront there is a driver's seat on the far left, a passenger's seat on the far right. In back there is a passenger's seat behind the driver and a passenger's seat behind the front passenger. You sit compartmentalized with little room to wander or maneuver. Perhaps it's the military heritage of this machine, but you will be forced to sit "at attention."
Why only room for four? Between the seats there's a huge carpeted platform that hides powertrain essentials underneath.
In back there is a large flat floor bordered by raised ledges. You can lay groceries, golf clubs or a few rocket launchers on the floor and tiny passengers can sit o n the ledges to devour the groceries, step all over your golf clubs and use the rocket launchers to ensure no one, but no one, passes you on the interstate.
With four-wheel-drive, 16-inch ground clearance, 30-inch fording depth and the ability to climb a 31-degree grade or ride sideways along a 22 degree slope, Hummer is a go-anywhere, anytime vehicle.
We didn't find any place to ford 30 inches or climb 22 to 31 degrees in our test drive, so we'll have to take AM General's word on it.
Although it's a go-anywhere machine, there are a few things that reality prevents you from accomplishing in a Hummer. One is parallel parking; another is slipping between those two Yuppiemobiles in front of the bagel store. Of course, when in a 6-foot wide, 6-foot tall, 7,000-pound vehicle that can hold a box of surface-to-air missiles, you pretty well can make your own parking spot.
There are a few other negatives, such as a roof line that allows decent headroom inside, but which sits so low that when idling at the stoplight, you have to lean over and peek up to see when red gives way to green.
But there are some positives, other than having one of the most novel vehicles on this planet and being able to rub biceps with Arnold at the annual Hummer owners' picnic and parts swap.
Though the vehicle weighs 7,000 pounds, it rides and handles rather well and is much easier to pull out to pass or make that left turn than you would suspect from a heavyweight that consumes diesel fuel at the rate of 13 m.p.g. in the city/16 m.p.g. highway and that needs a 25-gallon tank so you can make it between refills.
Another nice touch is the automatic central tire-inflation system. Push a button and you can inflate or deflate any or all of the four run-flat tires, which could come in handy when you need to deflate to get under that fallen tree off-road and inflate again.
The four-door Hummer wagon we tested starts at $72,309. If you want to save a few dollars but still be able to boast that you and Dennis have the same taste in vehicles, if not body piercing, you can pick up a two-door Humvee hardtop for only $56,563 before options.
However, options are rather costly. The turbo diesel ran more than $4,600, the central tire-inflation system another $2,900, the run-flat tires $2,000, the power mirrors $816 (which you're going to need since the passenger-side glass is nowhere near being within arm's reach) and the Monsoon sound system with CD changer $1,670, which is probably justified because you wouldn't want to be stranded in a monsoon without your favorite CDs.
If you're interested-and you can be classified as a Discerner, Conqueror, Realist or Adventurer– you can find the Humvee at Naperville Hummer, AM General's only Illinois outlet.
AM General doesn't disclose how many Hummers it sells.
>> 1998 Hummer wagon
© 1998 Chicago Tribune
Wheelbase: 130 inches Length: 184.5 inches Engine: 6.5-liter, 195-h.p. turbo diesel V-8 Transmission: 4-speed automatic Fuel economy: 13 m.p.g. city/17 m.p.g. highway Base price: $72,309 Price as tested: $90,895. Add $4,613 for turbo diesel; $2,936 for central tire-inflation system; $352 for trailer-towing system; $1,300 for driveline protection system; $2,090 for run-flat tires; $816 for power mirrors; $378 for brushguard; $1,685 for power package with cruise control, power mirrors, lighted visor mirrors and deluxe rearview mirror; $1,670 for Monsoon sound system with CD changer; $1,670 for deluxe interior; and $1,076 for aluminum rocker panels. Add $790 for freight. Pluses: You can join the same owner's club as Dennis Rodman, Arnold Schwarzenegger, Lorenzo Lamas and Erik Estrada. Can't find a parking place–make one a nywhere you want. Nowhere, repeat, nowhere you can't go. Minuses: Club membership with Lorenzo Lamas and Erik Es trada. How can a vehicle that looks this big have so little room inside? If the roof sat any lower, it would be a floor. The vehicle is so wide you can't see your front seat passenger, and the turbo diesel is SO NOISY YOU CAN'T HEAR THAT PASSENGER. >>
Consumer reviews
Rating breakdown (out of 5):
Comfort

—

Interior design

—

Performance

—

Value for the money

—

Exterior styling

—

Reliability

—
Warranty
New car program benefits
Bumper-to-bumper

36 months/36,000 miles
All model years for the Am General Hummer