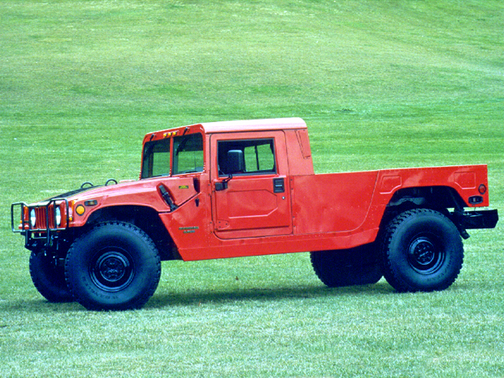 Key specs
Base trim shown
4 trims
Starting msrp listed lowest to highest price
1999 Am General Hummer review: Our expert's take
Sport ute or sport brute?
It's hard to tell with the Hummer, a gargantuan machine that has no peer — on the road or off.
Land Rover claims to be the "best 4 x 4 x far." And Jeep says its Grand Cherokee is "the most capable sport-utility ever."
Those are cute slogans. But long after the Rover and Jeep are buried up to their axles in mud, the Hummer will still be going strong.
I don't think the Hummer can be stopped — unless it's purposely plunged into a lake or steered off a cliff.
The Hummer makes no effort to coddle the driver in a leather and wood-lined cocoon. Aside from a decent radio, there isn't much in the way of luxury features.
The price is very high on this vehicle not because of luxury amenities but because of its astounding ability to go anywhere at anytime. Rough terrain and life-threatening weather conditions do nothing to slow down the Hummer. It was designed to absorb the toughest abuse the military can dish out.
Improvements have been made each year that the civilian version of the Hummer has been on the market. The 1999 version is almost there in terms of being a vehicle that a person could use comfortably for everyday driving.
Performance, handling
All 1999 Hummers come with a General Motors 6.5-liter turbocharged diesel that is rated at 195 horsepower and a GM heavy duty four-speed automatic transmission.
These are not parts from regular GM vehicles. They are made to military specifications, so they're designed to last at least 12 years before needing any major maintenance.
The Hummer engine starts with a gravelly rumble. Once it warms up, the engine gets a little quieter, but it never comes across as refined or meek. This powerhouse was born for hard work.
And it has plenty to do. At 6,700 pounds, the Hummer is a heavy vehicle. But driving in the city doesn't even make the engine sweat. It accelerates with far more verve than you'd expect. And when it comes to passing slower vehicles, other drivers get out of the way when they see the Hummer bearing down on them.
The four-speed transmission provides reasonably smooth shifts. All Hummers are outfitted with four-wheel drive, which is controlled by a second shift lever right next to the transmission shifter.
Once during the weeklong test dr ive, I veered off-road into a construction area near Maitland where a new road is being built. I steered the Hummer into a gigantic hole in the ground about the size of a football field, shifted into low, and tested its mettle.
The engine really comes alive when you make it work. You can hear a gentle hissing sound as the turbocharger blasts more fuel and air into the engine. No matter how steep the grade, the Hummer won't be deterred. What's more, it's very easy to control under such harsh conditions.
Hummer engineers have improved the power steering system. The vehicle can turn a complete circle in just 26 feet. The suspension system is extremely stiff when you drive over bad terrain. But on the road, the ride is very tame.
The Hummer has the strong est brakes I have ever experienced in any vehicle. You feel as if they could stop a Boeing 747. Yet, despite its size, the Hummer is easy to drive. I let two women who never drove such a large vehicle take it around the block a few times. They were not intimidated. In fact, they were surprised at how user-friendly the Hummer is.
I particularly liked the dual gas tanks. When one runs dry, you flip a switch and use fuel from the auxiliary tank. No EPA figures for the Hummer are available because it is a full-sized, diesel-powered vehicle. But I pumped $40 worth of fuel into it after I used the two tanks it came with. I'd estimate the Hummer gets between 10 and 13 mpg.
Fit and finish
As AM General, the company that builds the Hummer, has improved the Hummer each year, sales have increased. The company is privately held and won't release exact sales figures, but Hummer sales have increased from a few hundred a year since the civilian version came out in 1991 to just over a thousand last year, according to Automotive News.
As it is, the 1999 model is tolerable for everyday driving. The seats are comfortable, the air conditioner blows cold and strong and such conveniences as electric door locks, power mirrors, cruise control and a powerful AM/FM radio with cassette and CD changer make toodling around town fun.
But there is plenty of room for improvements:
The ignition key and switch — lifted from a 1972 Ford Pinto — should give way to GM's new key with a computer chip, which will help prevent theft.
Rear vision is atrocious because the thick rear doors block about 50 percent of the view. If the rear door were to split and fold down like a tailgate, the problem would be solved.
The interior trim pieces should look a bit nicer. In such an expensive vehicle, I'd expect better quality trim.
A driver's side air bag would be nice.
Those gripes aside, there isn't much to dislike about the Hummer. Because it's the vehicle used by the Army and because it has proved itself under battle conditions, the Hummer seems to have built a large, loyal and patriotic following.
Many times during my weeklong test drive, riders and passengers on Harley-Davidson motorcycles — a notoriously patriotic bunch — flashed a thumbs-up or an approving nod as they rode by. Kids loved it. Drivers in other sport-utilities especially loved it, including the surfer dude in the yellow Nissan Xterra who made a bowing motion with his hands as the Hummer passed by on Mills Avenue.
During the time I was driving the Hummer, I couldn't help but wonder how AM General could make the Hummer even more popular. I think that a smaller and less expensive model — but one that's just as tough off-road — something the size of a Jeep Grand Cherokee, for instance, would sell extremely well.
Then a few days after I finished testing the Hummer, General Motors announced that it had bought the Hummer brand from AM General and will build the Hummer along with an Explorer-sized version. AM General will continue to build the HumVee, the Army's versi on of the vehicle.
Now notice has been served to Jeep, Ford and the rest of the contenders and pretenders from Asia and Europe. Analysts are predicting big things for a broader range of Hummer brand sport-utilities.
With a reputation as strong as Hummer's, and with the market for sport-utilities as hot as it is, a smaller Hummer should be a force to be reckoned with in the sport-utility market.
As it stands now, the Hummer is a decent machine. The price places it well above anything else on the market. Its ability to go anywhere without fuss justifies the expense.
1999 Hummer 4 Passenger Wagon
Base price: $82,421. Safety: Anti-lock brakes, traction control. Price as tested: $97,119. EPA rating: N/A Incentives: None.
Consumer reviews
Rating breakdown (out of 5):
Comfort

—

Interior design

—

Performance

—

Value for the money

—

Exterior styling

—

Reliability

—
Warranty
New car program benefits
Bumper-to-bumper

36 months/36,000 miles
All model years for the Am General Hummer