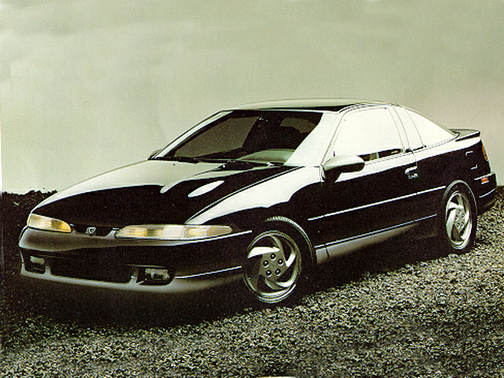 Key specs
Base trim shown
3 trims
Starting msrp listed lowest to highest price
1992 Eagle Talon review: Our expert's take
The verdict:
Versus the competiton:
Eagles are synonymous with taking flight, which is apropos to the EagleTalon from Chrysler Corp. This little sports coupe is so quick off thestarting block that you expect someone to start serving coffee, tea or milkalong about fourth gear.
We test drove the Talon TSi with all-wheel drive and powered by a 195-horsepower, turbocharged (and intercooled) 2-liter, dual overhead cam 4-cylinder engine teamed with 5-speed manual as standard.
You may tend to measure performance in 0-to-60-m.p.h. times or secondselapsed in traveling the quarter mile. The TSi does both of those admirablywhile taking care of the daily chores, such as pulling you up the on-rampalong Interstate Highway 94 so you find yourself at the legal 65-m.p.h. limit (or perhaps a shade higher) just as you signal your intention to slip intothe flow of vehicles dodging potholes through Indiana.
A somewhat tamer version of the Talon TSi is available when equipped with the optional 4-speed automatic. The horsepower rating drops to 180, still noslouch in propelling you off the line ahead of traffic.
The powerful turbo-boosted engine is complemented by optional anti-lockbrakes to help bring the 195 horses under control quickly. With the power the Talon delivers, however, anti-lock brakes should be standard, not an extra-cost option.
All-wheel drive ensures you keep between the lines whether they`restraight or bend and twist.
There`s a patch of pavement on I-94 heading toward Detroit that`s theepitome of an S turn. Huge yellow signs just before you enter the turn givelittle warning you`re entering the ultimate handling zone.
Those yellow signs have black arrows that point south while yourheadlights are facing east. Those arrows are the clue to slow down and workyour way carefully through the course. Often in cars we`ve tested, thosearrows mean let the speedometer needle slip to less than 50 m.p.h. With theall-wheel-drive Talon, we entered and exited the S-turn at 65. The Talon satflat on the road without noticing the minor disturbance in its path.
The turbocharged 4 provides the power, all-wheel drive the road-holdingability, ABS the assurance you are going to stop when and where you want. Noair bag, however. A car with such power potential should have one.
Though subcompact in dimensions, the Talon offers good front-seat roomand comfort. The bucket seats are wide and offer good lateral support whencruising long distances or maneuvering in or out of turns.
Controls also are positioned so you always feel in control. The buttonsand dials are in the center of the dash and slanted toward the driver sothere`s no fumbling around while at speed. Simple, yet functional. Two buttonsyou want to find easily-rear-window defrost and rear-window wiper-also areonly a fingertip away.
The rear seat . . . well, it borrows a page from the Camaro book ofdesign. Don`t expect other than a child to sit in b ack for any length of time.Those two rear seats best hold groceries; they have to because the slant ofthe roof and hatchlid is so pronounced you don`t have enough height in thecargo hold for anything other than a foldable suit carrier.
One other irritant is that the Talon`s dual cupholders are in the centerconsole. You have to lift the console cover and let it hang open to use theholders. And keep in mind that the unofficial industry standard calls forcupholders to accommodate McDonald`s cups. We found out the hard way that the holders don`t hold your typical 16-ounce pop bottle, however.
One nice touch was the little covered stowage tray behind the gear shiftknob. It was just big enough to hold a trip`s worth of receipts without themblowing all over the car.
Each time we have the chance to drive a Talon, we can`t help but think of the Chevrolet Camaro and Pontiac Firebird. That pair may hold the styling edgeover the Talon, but the room and comfort in th e Talon-along with the crispride and handling-leave us wondering: "Where did Chevy and Pontiac gowrong?"
As for Talon`s appearance, the subcompact coupe gets a minor restylingfor `92 including new hood, front facia, headlamps (replacing the formerhidden lamps), body-colored spoiler, taillamps and rear facia. For 1992, even the base model gets the sporty plastic lower body cladding along the rockerpanels and wheel-well openings.
Base price of the TSi all-wheel-drive Talon is $17,390.
Standard equipment includes power brakes and steering, rear windowdefroster, tinted glass, leather-wrapped steering wheel and gear-shift lever, dual power outside mirrors, dual visor vanity mirrors, AM-FM stereo withcassette and digital clock, motorized automatic driver and front passengerseat belts, split folding rear seats and tilt steering to name just a fewitems.
The option list is extensive, which is unfortunate because it would benice to have anti-lock brakes, air conditioning and rear window wiper/washeras standard, rather than extra-cost goodies, in this luxury sports coupe.
ABS runs $943 and air, rear window wiper/washer, cruise control, powerlocks and power windows come in a package priced at $1,624. Other options you can load onto the Talon are 4-speed automatic at $840, leather seats at $435and sunroof at $373. Freight runs $368.
All model years for the Eagle Talon