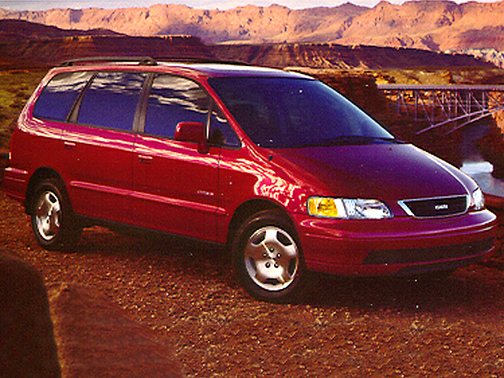 No 1998 Isuzu Oasis inventory available
Get notified when this car becomes available. Sign Up.
Sign up to get notified
We understand it can be frustrating when the car you are interested in isn't available. Sign up to get notified when this car becomes available.
Already have a profile? Sign in.
Key specs
Base trim shown
2 trims
Starting msrp listed lowest to highest price
1998 Isuzu Oasis review: Our expert's take
The minivan market is likely to heat up this fall with the arrival of the 1998 Toyota Sienna. That should color any new minivan-buying decision you make this year – and it colored our test drive of the 1997 Isuzu Oasis LS.
If you don't have the luxury of waiting to check out the new Sienna, the four-door Oasis is a good little minivan and it's different from domestic heavy hitters like the Dodge Grand Caravan and Ford Windstar. If those minivans just seem too cumbersome to operate, the short-wheelbase Oasis may be just the ticket. But if price is a real concern, Isuzu's U.S. competitors may get the best of this relatively expensive Japanese minivan.
She: The Oasis reminds me of the hot-glue gun I bought years ago. Nothing fancy, but when you need it, it's easy to operate and it gets the job done. I really enjoyed driving the Isuzu, whether I was hauling passengers or cargo. You don't have to ask for any help moving seats around and that is a real plus. If I were a single mom with little kids and lots of money from a divorce settlement or a great job, it might be the minivan for me. But you'll notice there are a lot of "ifs" there.
He: You didn't have this many questions when you married me.
She: Doesn't say much for the competition, does it?
He: I knew I shouldn't have said anything. We should probably point out that the Oasis is little more than a rebadged Honda Odyssey, which is actually a compliment. We've rated the Odyssey highly ever since its introduction, and the Oasis shares all its virtues, including features like variable-assist power steering, all-independent suspension and four-wheel power disc brakes.
She: And if you want to know what that means in plain English, the Oasis rides and handles like a car. You don't have to worry about traction in bad weather because it's front-wheel drive and has standard antilock brakes. The Oasis is easy to get in and out of because of the low step-in height and the four-door design. It also has some nice features, like the hideaway rear bench seat.
He: My biggest gripe remains the lack of engine power. The Isuzu, like the Honda, comes with only one engine/transmission combination. It's a 2.2-liter four-cylinder coupled with a four-speed automatic. The transmission is a beauty.
I can't say the same for the engine, which peaks at 140 horsepower. That's not enough juice for a six- or seven-passenger vehicle like the Oasis that weighs nearly 3500 pounds. The engine runs out of steam just about the time you reach freeway cruising speeds, and if you have any adult passengers aboard, the four-cylinder always sounds like it's working too hard. Other than that, the Oasis is a pretty nicely equipped vehicle for the money.
She: If you start doing some smart comparison shopping, though, the virtues of the Oasis may suddenly seem like a mirage, especially in the powertrain department. Our test vehicle had a base price of $25,990 and a bottom line o f $26,905 when you added in the $470 in-dash CD player and a $445 destination charge. Why shell out that kind of money for an Oasis when you can get a four-door Chevrolet Venture with a 180-horsepower 3.4 -liter V-6 engine for $22,439 or a three-door Ford Windstar with a 150-horsepower 3.0-liter V-6 engine for under $20,000? I'm only recommending this as a second minivan to my rich girlfriends.
He: Why don't you recommend me to one of those rich girlfriends?
She: You're not as practical as an Oasis – or as nimble, as you like to say.
He: Sorry I asked. Back to the Oasis. Yes, it's true the Isuzu has a high base price. But look at all the equipment you get for the money – front and rear air conditioning, for instance, plus full power accessories, including an electric sunroof. I don't think you can buy a car with all those standard features for under $25,000. By the time you put the same equipment on a Chevrolet or a Ford, the sticker starts to get a bit inflated, . Still, I think the Windstar and the Venture may be better values for family buyers.
She: I'm not saying that the Isuzu is totally family-unfriendly. It's not. I think it's great you get five-year roadside assistance on the Oasis. And kids will be happy with the visibility in the rear. The rear bench seat is slightly higher, which lessens the claustrophobic feeling you can get in some domestic minivans. Clearly a lot of thought went into the Oasis. And clearly, a lot of your money will go into it, too.
He: You know, I had one final thought. For all that dough, you'd think Isuzu – or Honda – might have come up with something a little more stylish. When you get right down to it, the Oasis is ugly next to a Caravan or a Sienna.
She: If they decide to do a facelift, tell the designers they can borrow my glue gun.
Warranty
New car program benefits
Bumper-to-bumper

36 months/50,000 miles

Roadside assistance

60 months/60,000 miles
All model years for the Isuzu Oasis