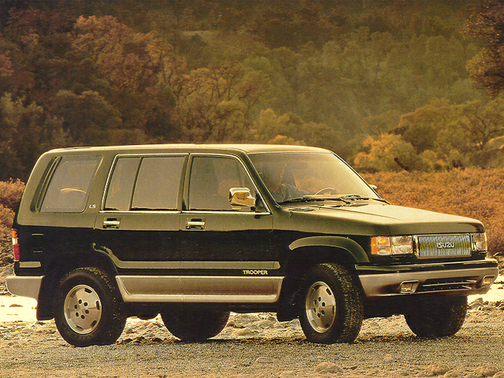 No 1993 Isuzu Trooper inventory available
Get notified when this car becomes available. Sign Up.
Sign up to get notified
We understand it can be frustrating when the car you are interested in isn't available. Sign up to get notified when this car becomes available.
Already have a profile? Sign in.
Key specs
Base trim shown
Length not available, Height not available

Drivetrain not available
3 trims
Starting msrp listed lowest to highest price
1993 Isuzu Trooper review: Our expert's take
The verdict:
Versus the competiton:
The Ford Bronco II should have taught Isuzu a lesson-that utility vehicles with short wheelbases may look cute but have a tendency to deliver a rough ride and wobbly handling.
Bronco II was the whirling dervish of utility vehicles until Ford wised up and extended the wheelbase several inches and renamed the machine Explorer. People now standing in line to buy Explorers were the same ones who had been in line to dispose of Bronco IIs. Stability won back buyers.
Yet after an absence of several years, a two-door Trooper is back in 1993 as a companion to Isuzu's four-door Trooper utility vehicle. Trooper originally had been a two-door-until the U.S. government categorized two-door utilities as trucks, which made them subject to a 25 percent import tax.
Out went the two-door and in came a four-door Trooper, which the governmentcalled a car, subjecting it to only a 2.5 percent import duty.
The four-door Troopers are called the S and SL. The two-door Trooper is called the RS. It's roomier and more solidly constructed than a Suzuki Samuraior Sidekick or the vehicle Suzuki builds for Chevy, the Geo Tracker. If you slam the door on a Trooper RS, the metal doesn't shimmy.
Yet Trooper RS (really small?) is built on a 91.7-inch wheelbase and is 166.5 inches long. Isuzu, incredibly, boasts, "The RS is 150 pounds lighter, 17 inches shorter and two doors less conservative than its four-door sibling."
In an age in which people are looking for more for the money, Isuzu proudlyannounces that buyers are getting less. At a time when people question the safety of mini Samurais and Trackers, Isuzu promotes less size and less weight.
The return of the two-door Trooper also is puzzling because of the 3.2-liter, 190-horsepower, 24-valve V-6 under the hood. With a short wheelbaseand higher stance to allow extra ground clearance for four-wheel drive, the two-door Trooper suffers from the same raised-center-of-gravity handling woes as the old Bronco II. The high-performance engine compounds the problem.
Gas-pressurized shocks help reduce some of the road harshness, but you still don't want to take corners at speed.
It's obvious Isuzu went the two-door, high-performance-engine route to attract youths who like the concept of a small four-wheeler such as Sidekick or Tracker but want more oomph to get to the beach more quickly.
The Trooper RS may move lively, but with a 15 m.p.g. city/17 highway mileage rating with the standard five-speed manual, you probably will stop often as well-to refill the tank. Rear-wheel anti-lock brakes ensure that while those pit stops may be frequent, at least they'll be conducted in a straight line regardless of road surface.
Because it's subject to the 25 percent duty, the two-door Trooper carries ahefty sticker price. Base is $22,350 for the four-wheel-drive RS. Standard equipment includes automatic locking hubs (shift into four-wheel high or low an d pull the vehicle forward for them to engage); limited-slip differential; power brakes and steering; AM-FM stereo with cassette, six speakers and a power antenna; tilt steering column; variable-speed wipers; rear-window wiper,washer and defogger; all-season radials; spare-tire cover; carpeted mats, aluminum-alloy wheels; body-colored bumpers; mud flaps; air conditioning; dual, heated electric mirrors; power windows and door locks; cruise control; and headlamp washers and wipers. No air bag is available.
The only option offered is a compact disc player at $550. With the $369 freight charge, the sticker on our test vehicle reached $23,269, which might send some youths into the Isuzu showroom, only to have their parents make tracks for a larger Explorer, Chevrolet Blazer or Jeep Grand Cherokee in the same or even lower price range.
All model years for the Isuzu Trooper