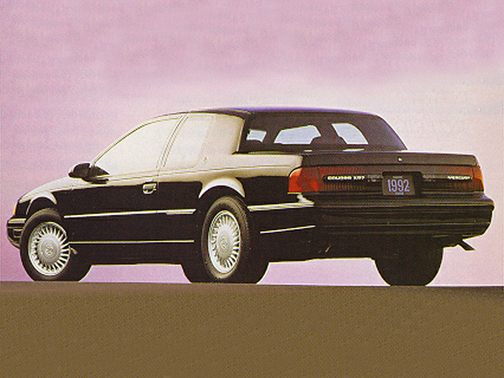 No 1992 Mercury Cougar inventory available
Get notified when this car becomes available. Sign Up.
Sign up to get notified
We understand it can be frustrating when the car you are interested in isn't available. Sign up to get notified when this car becomes available.
Already have a profile? Sign in.
Key specs
Base trim shown
2 trims
Starting msrp listed lowest to highest price
1992 Mercury Cougar review: Our expert's take
The verdict:
Versus the competiton:
For a quarter of a century Mercury's Cougar has been prowling the streets.
So this year, the Mercury division of Ford is celebrating the Cougar's 25th anniversary with a limited edition model that offers a host of special appearance items, a V-8 engine and a modicum of luxury.
Before we take a ride in this week's test car, let's look briefly at the Cougar's evolution.
The first Cougar, built in 1967, was based on the phenomenally successful Ford Mustang. Unlike the Mustang, however, the original Cougar came with hidden headlights, sequential taillights borrowed from the Ford Thunderbird and conservative styling.
There was a base model and a more luxurious XR7. With an admission price of $2,851, more than 150,000 Cougars found homes that first year.
A special high performance edition called the Eliminator was built in 1969. A convertible also joined the lineup.
Throughout the '70s, the Cougar grew. It also became fairly tame, and some might say, gaudy, sporting massive chrome grilles, tacky vinyl roofs and other grotesque ornamentation of the period.
After 1973 the Cougar was based on the mid-size Thunderbird.
During the '80s, Cougar followed industry trends and was downsized a notch. These days the Cougar is a mechanical clone of the Ford's mid-sized Thunderbird.
Over the years more than 2.4 million Cougars have been sold, making it one of Mercury's most successful nameplates.
Mercury plans to build just 4,750 25th Anniversary Cougars; 250 will go to Canada, the rest stay in the United States, according to Mercury spokesman John Spelich.
PERFORMANCE
The 1992 Cougar is not really riding the crest of any waves, technology, styling or otherwise. It is, in fact, something of an anachronism.
You can count on one hand the number of V-8 powered rear-wheel drive coupes still being made today.
They are a dying breed, and one by one rear-wheel drive vehicles have been replaced over the last decade by more space-efficient and economical front-wheel drive vehicles.
Be that as it may, the Cougar is still a formidable vehicle. With 200 horses coming from its 5.0-liter high-output V-8, (similar to the engine found in the Mustang GT) the Cougar performs admirably.
Muscle and hustle with a little bit of bustle is one way to describe this machine. You can do 0-to-60 mph in about 9 seconds if you wish.
The only transmission available is a four-speed automatic. This was the car's weak point.
At about 40 mph the transmission clunked into fourth gear with an inordinate amount of violence, enough in fact to make the car shudder.
The test car had fewer than 300 miles, so it may have needed some kind of adjustment.
Otherwise, shifts were fairly smooth and well-timed.
Gas mileage was excellent. A trip to New Smyrna Beach and back (120 miles) burned about five gallons of gas.
In the city, the Cougar returned 19 miles per gallon; the air conditione r was on most of the time.
HANDLING
The car's underpinnings look impressive on paper: there's four-wheel independent suspension, four-wheel anti-lock disc brakes and speed sensitive power-assisted rack and pinion steering – that's high-performance hardware.
Yet even with all that, the Cougar comes across as an incredibly average handling automobile.
Something like a front-wheel drive Chevrolet Lumina Z34 with its Twin Dual Cam V-6 can run rings around the Cougar, though it should be said that the Chevy isn't nearly as well furnished as the Cougar.
If you push the Cougar hard, you'll find the suspension system to be bouncy. You can take an easy curve at 50 mph without fuss. But the Cougar completely loses it in tight, fast maneuvers.
Perhaps the car isn't meant to be driven this way.
FIT AND FINISH
If you think American cars are bankrupt when it comes to style, your eyes are apt to light up like a Christmas tree when you pee inside a 25th Anniversary edition Cougar.
You'll be greeted by a beautifully designed set of tan leather bucket seats; they take a bit of work to get comfortable in, but there are enough electric adjustments to get the seat configured to your liking.
There's also a stylish center console housing a T-handle shifter, an instrument panel with an easy-to-read set of analog gauges and a long list of standard items, including a sunroof, CD player, power seats, mirrors and windows and a fully automatic air conditioning system.
There were no faults in the way the test car was put together.
Special badges, embroidered floor mats as well as unique green paint and BBS brand lace-style mag wheels make up most of the items in the anniversary package, which adds $1,311 to the base price.
Visibility is decent. Rear passengers have plenty of room, and the trunk is big enough for a dozen grocery bags, numerous suitcases and other large items.
The Cougar is conservative, refined, good-looking and competent.
Truett's tip: For 1992, Mercury's Cougar XR7 is a muscularV-8 powered coupe that's handsome, well-equipped and put together nicely. The special 25th anniversary appearance package adds a touch of class.
All model years for the Mercury Cougar