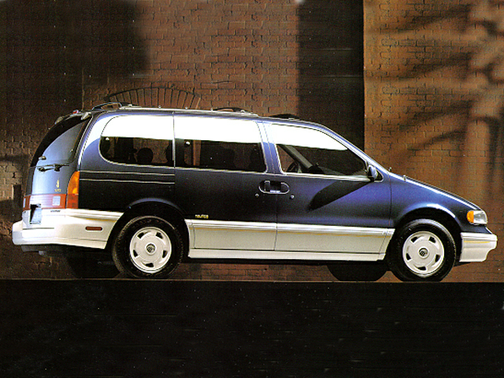 No 1995 Mercury Villager inventory available
Get notified when this car becomes available. Sign Up.
Sign up to get notified
We understand it can be frustrating when the car you are interested in isn't available. Sign up to get notified when this car becomes available.
Already have a profile? Sign in.
Key specs
Base trim shown
3 trims
Starting msrp listed lowest to highest price
1995 Mercury Villager review: Our expert's take
The verdict:
Versus the competiton:
We love the Nautica magazine ads. Lots of fresh-faced sailors cut from the JFK/Hyannisport mode, wearing great clothes. No Zug Island slobs here. The clothing isn't that bad either priced lower than Ralph Lauren and colorfast after lots of washing.
Now you can bring this aquatic fantasy to your garage with the 1995 Mercury Villager Nautica minivan. What you get is a navy vehicle with yellow-and-white trim and lots of cute sailboat logos. And as for the most critical specification with any minivan: There are nine cupholders.
He: Well, I suppose it looks snazzier than the Boblo boat. But it's not as big.
She: That sure brings back memories. I wish they had a marketing deal with Good Humor. Now that's a minivan I'd buy.
He: But only if it came with free samples. Toasted almond, right? At least you can look cool in the Nautica.
She: The basic problem I have with the Nautica-brand Villager is what do you do when you get tired of being a rolling advertisement for the clothing company? It's one thing to buy a Nike or a Nautica T-shirt. It's another thing to be driving around a $27,000 billboard. You really have to identify with and love Nautica to get into this one. And that's the critical question I'd ask myself before buying one.
He: It's not like the Jeep Grand Cherokee Orvis Edition, where the outside sponsor actually matches up pretty well with the buyer's lifestyle. On the other hand, look at all those Ford customers who've purchased Eddie Bauer Explorers and Aerostars. I mean, what's next? Nintendo Mustangs? Clearasil Camaros? Oops, sorry, I got off track. The Villager itself, without the Nautica package, is such a desirable vehicle in the minivan segment. It's one of my favorites. It rides and handles like a car, and it's quite comfortable in terms of seating accommodations. There's just not a lot of storage space behind the third seat because of the short wheelbase. Ford tries to make up for that by scattering all kinds of storage pockets and bins throughout the vehicle. Unfortunately, that doesn't help you much during trips to the grocery store or on family vacations.
She: My biggest gripe about the Nautica is about the motorized shoulder belts. Any number of times, I forgot to fasten the lap belt. And I kept strangling myself on the belt. My own darn fault. If I would reach over to get my purse, I would slide the motorized belt under my arm. Or over my head if I was bending over to open the fuel tank release. Then I'd forget about where the belt was, and it would start wrapping itself around my neck when I'd open the door. I'm not stupid about seat belts. But I had a whole bunch of trouble with this.
He: Those damn belts drive me so crazy, I feel compelled to knock the Villager's overall rating down to two stars. The guy who invented those things no woman would be that sadistic oughta be shot. On the utilitaria n side, the Villager would be a whole lot more useful if it had a fourth door behind the driver, like the new Chryslers.
She: In defense of the Nautica, some parents like the fact that their kids don't have a door to horse around with on one side. I don't think that's an issue. A big family plus is the way the Nautica rides and handles.
He: Agile is a word you wouldn't normally use to describe a minivan, but in this case it fits. The Villager started life as a Nissan Maxima, which is a terrific sport-sedan. So the chassis and driveline were tuned by Nissan engineers for folks who like to drive. That V-6 is sweet, too, and very responsive. It makes 151 horsepower and seems to have ample power on tap.
She: The downside is it feels like a minivan from another era. The Villager is very milk-truck-like, especially from the driver's perch. It lacks the sleekness of the new Chryslers. But I do like the fresh combination of colors, with the navy yellow and white.
He: So you're saying all it needs is a complete redesign and you'd like it, right? That makes me wonder if the Villager is such an anachronism, why didn't Lincoln-Mercury ask Boblo to sponsor it?
The Final Word
Anita's rating: (average)
Paul's rating: (average)
Likes: Rides and handles like a sedan; feels solid and well built; jaunty appearance
Dislikes: Lose those motorized belts! Nautica theme may be too pretentious for some; no passenger air bag; not much cargo space
1995 Mercury Villager Nautica
Type: Front-engine front-wheel drive seven-passenger luxury minivan.
Price: Base, $25,305; as tested, $27,550 (including $555 destination charge, less $1,250 in package discounts).
What's new for '95: New colors.
Standard equipment: Leather quad captain's chairs with eight-way power driver seat and four-way power passenger seat, all-season radial tires, tinted glass, a luggage rack, dual power mirrors, two-tone paint, intermittent wipers, rear washer/wiper, air conditioning, cut-pile carpeting, a rear defroster, front and rear dome lamps, front and rear floor mats, overhead map lights, AM/FM stereo with cassette, a cargo net, front and rear cupholders, a leather-wrapped steering wheel with tilt column, under-seat storage, dual lighted visor vanity mirrors, gas-filled shocks, cruise control, power front windows, all-season radial tires.
Safety features: Driver's-side air bag, antilock brakes and a childproof sliding door lock.
Options on test vehicle: Preferred equipment package 697A, with electronic instrument cluster, flipopen liftgate window, auxiliary rear heater/air conditioning, premium AM/FM stereo with cassette, keyless entry system, autolamp delay, aluminum wheels with locking lug nuts ($2,940).
EPA fuel economy: 17 mpg city / 23 mpg highway.
Engine: 3.0-liter V-6; 151 horsepower at 4800 rpm; 174 foot-pounds of torque at 4400 rpm.
Transmission: Four-speed automatic.
Competitors: Toyota Previa, Honda Odyssey, Nissan Quest (sister vehicle), Mazda MPV, Chevrolet Lumina minivan, Chevrolet Astro, Pontiac Trans Sport, Oldsmobile Silhouette, GMC Safari, Plymouth Voyager, Dodge Caravan and Chrysler Town & Country.
Specifications: Wheelbase, 112.2 inches; overall length, 189.9 inches; curb weight, n/a; legroom, 39.9 inches front / 34.8 inches middle / 36.7 inches rear; headroom, 39.4 inches front / 39.7 inches middle / 37.3 inches rear; shoulder room, 62.1 inches front / 63.9 inches middle / 63.3 inches rear.
12-month insurance cost, according to AAA Michigan * : $893.00.
* Rates based on an average family of four from the Livonia area whose primary driver is aged 40 with no tickets who drives three to 10 miles each way to work. Rates reflect multicar discount and, where appropriate, discounts for air bags and seat belts.
Where built: Avon Lake, Ohio.
All model years for the Mercury Villager