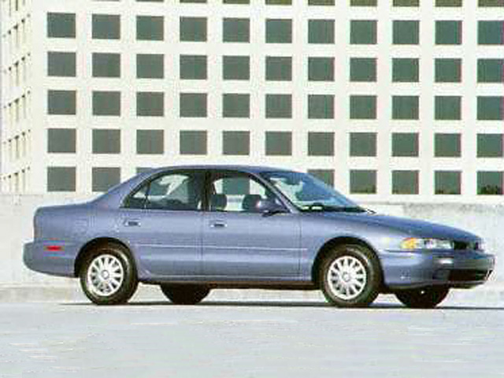 Get notified when this car becomes available.
Key specs
Base trim shown
4 trims
Starting msrp listed lowest to highest price
1994 Mitsubishi Galant review: Our expert's take
The all-new Mitsubishi Galant is a perfect example of today's economic reality: Japanese vehicles are getting very expensive.
You probably didn't look here for a lesson on economics, so I won't waste your time with a lot of numbers.
But understand this: The price of Japanese goods has risen dramatically in recent months because of the changing relationship between the Japanese yen and U.S. dollar. A year ago the Japanese yen was worth 240 to the dollar. Today the exchange rate is about 108 yen to the dollar.
You don't have to be an economics professor to figure out that anyone selling Japanese goods has to raise prices in order to stay in business.
Though the Galant is assembled in the United States, it still uses many parts shipped here from Japan. Mitsubishi spokesman Steve Ford said only about 60 percent of the Galant's parts are made in the United States. Most of the rest of the car's components come from Japan.
Our $20,000 test car – the top-of-the-line LS model with every available option – was not typical of the Galant models Mitsubishi hopes to sell. Kim Custer, Mitsubishi's public relations manager in California, said the base model starts at $13,600, and a well-equipped ES model – minus sporty wheels and an electric sunroof – sells for about $17,000.
Although the Galant compares in price to such cars as the V-6-powered Dodge Intrepid and V-8 Ford Crown Victoria – two bigger, more powerful cars – Mitsubishi doesn't view them as the competition. Instead the company sees the car doing battle with imported cars in the same size category, such as the Toyota Camry, Nissan Maxima and Mazda 626.
In any case, with the possible exception of rear passenger room, Mitsubishi has done a tremendous job of revamping the Galant.
Check this out:
-There are standard dual air bags on all four models.
– There's a new 2.4 liter, 16-valve four-cylinder engine under the hood.
– Build quality is flawless – or close to it.
– The air conditioner uses the new ozone-friendly coolant.
– Galant's design is fresh and stylish.
But there's still the issue of price – $20,200 seems like a lot of money to pay for a small four-cylinder sedan.
PERFORMANCE
The Galant gallops, thanks to its powerful 141-horsepower, 16-valve, four-cylinder engine.
I have no complaints about the car's ability to pass slow-moving traffic or merge onto busy highways. It can do these things with ease. But the 2.4-liter engine doesn't run smoothly when you make it work hard.
Floor the accelerator, and you'll hear the engine buzz like a brown paper bag full of angry bumblebees. A V-6 would eliminate the buzzy four-cylinder as a well as add value to the car.
The LS model comes standard with a computerized four-speed automatic transmission.
Mitsubishi engineers have equipped the automatic with an advanced computer system that monitors road and vehicle conditions and adjusts the shifts accordingly. The system works well.
But like other Mitsubishi vehicles I have driven, the Galant also requires the car be stopped completely before shifting from reverse to drive. If you don't, the car will lurch into gear violently.
HANDLING
Thenew Galant has a firm, stable and sporty ride that makes the car a lot of fun to drive.
Galant's underpinnings include fat, 15-inch tires, a four-wheel independent suspension system, power-assisted rack-and-pinion steering and a powerful set of anti-lock front disc/rear drum brakes.
Unlike many other small cars, you don't hear much road noise in the Galant.
And because the body is very stiff, there is little jarring when you encounter rough roads. This helps make the 2,976-pound sedan feel a bit larger than it is.
Squeezing in and out of tight places proved no problem for the Galant. Its 34.8-foot turning radius makes it very manageable.
Sometimes I'll drive down an angled row of parking spa es the wrong way to see how hard it is to pull into a space straight. The Galant can hand le such a tight turn with just a little extra effort.
FIT AND FINISH
Our test car came with just about every power accessory you could want in a small sedan.
I found the interior to be somewhat tight but comfortable.
For instance, there's not a lot of room between the bucket seats. Also, a label on the dash-mounted pop-out cupholder warns you not to eject a compact disc while the cupholder is deployed.
Rear legroom and headroom is about average for a small sedan. I'm 5-foot-11 and, in sitting in the rear seat, found that I could be reasonably comfortable.
The Galant's rear seat folds forward to provide access to the spacious trunk. Long objects, such as water skis can fit inside the car.
As far as the switches, controls and instruments go, there's nothing special.
The interior is designed sensibly and laid out with user-friendliness in mind.
The test car also sported a power sunroof, cruise control and a superb air conditioner.
Truett's tip: With an asking price of more than $20,000, Mitsubishi may find that it will be hard to sell the fully-loaded Galant LS – despite the fact that it has dual air bags, good performance, decent room and excellent quality.
Warranty
New car and Certified Pre-Owned programs by
Mitsubishi
Certified Pre-Owned program benefits
Maximum age/mileage

Less than 5 years/less than 60,000 miles

Basic warranty terms

Remainder of original 5 years/60,000 miles

Powertrain

Remainder of original 10-year/100,000 miles

Dealer certification required

Roadside assistance

Yes
View all cpo program details

Have questions about warranties or CPO programs?

All model years for the Mitsubishi Galant

Show more years

Show fewer years