98,000 Chevrolet Cobalt Coupes Recalled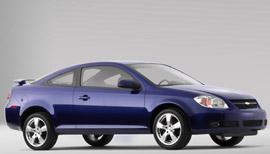 GM is recalling more than 98,000 2005 – 06 Chevrolet Cobalt coupes to upgrade their side-impact protection. The recalled vehicles are ones not equipped with optional side-impact airbags, and potential harm is only to drivers or passengers not wearing seat belts.
There have been no injuries related to the recall. GM is having dealers install energy-absorbing plastic in the affected areas. Concerned Cobalt owners can call Chevrolet at (800) 630-2438 for more information.