First Drive: Chevrolet Equinox Fuel Cell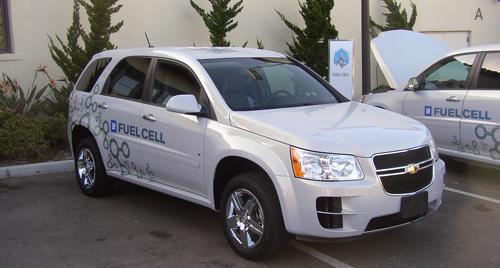 Even though hydrogen fuel cell vehicles may be a long way from appearing in a showroom near you, they are already starting to populate America's roads thanks to test programs from manufacturers like Honda and Chevrolet. Chevrolet's effort, called Project Driveway, aims to place about 100 Chevrolet Equinox fuel cell SUVs in the hands of ordinary drivers for extended loans. I recently had the chance to take a short drive around La Jolla, Calif., in the Equinox fuel cell, and I came away impressed.
The Equinox fuel cell offers strong, smooth acceleration, easy handling and natural brake pedal feel. After driving it for a while, it starts to feel like a hybrid that's been forced to stay in electric mode all the time, only it's more powerful. The Equinox fuel cell's electric motor drives the front wheels (there is no transmission) and it has 236 pounds-feet of torque ready whenever you touch the gas pedal.
Chevrolet has also engineered in little things that will help any driver of a conventional gas-powered car feel comfortable in the Equinox fuel cell. Lift your foot off the brake pedal and it will creep forward like a regular car with an automatic transmission. In fact, the Equinox fuel cell doesn't really ask the driver to change anything about the way they drive in order to operate it. That's sure to be a plus for the people who have been selected to test it as part of Project Driveway.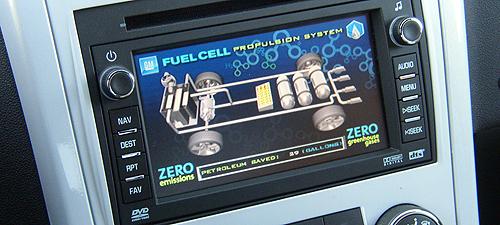 The Equinox fuel cell's cabin has the general layout of a conventional Equinox with some styling and functional changes. One of the most intriguing elements is the power-flow diagram for the fuel cell system that can be viewed on the SUV's navigation screen. It's reminiscent of the type seen in some hybrids, and it provides a graphical representation of how the parts of the fuel-cell powertrain are operating at a given moment. It depicts the fuel-cell stack, electric motor and also the system's battery pack, among other things. The battery can provide additional power when necessary and also store energy captured during regenerative braking, according to GM vehicle engineer Todd Goldstein. Changes to the instrument cluster include the replacement of the tachometer with a kW gauge and a hydrogen gauge instead of one for gasoline.
Move to the cargo area, and you can see the outline in the floor of one of the three carbon fiber hydrogen tanks. When all of them are filled, the Equinox can hold 4.2 kilograms of hydrogen. If you're wondering how that amount of hydrogen compares to gasoline, Goldstein says that burning one gallon of gas delivers about the same amount of energy as using one kilogram of hydrogen in a fuel cell. Multiply the storage capacity of the Equinox fuel cell by its 39 miles per kilogram combined fuel economy rating, and you get a range of about 160 miles.
While there are a number of challenges, like cost and developing a refueling infrastructure, that stand in the way of fuel-cell vehicles being commercially viable, delivering an acceptable driving experience isn't one of them, as the Equinox fuel cell wins high marks for its overall refinement and ease of use.