Recall Alert: 2007-08 Nissan Sentra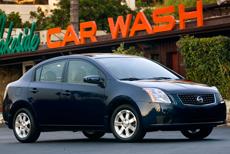 Nissan is recalling 170,000 Sentra compact sedans due to a faulty brake cylinder. The part can potentially leak, leading to a brake warning light illuminating. If left unaddressed, the problem could eventually lead to brake failure.
Nissan says there have been no accidents or injuries reported due to the problem, and the company will replace the faulty cylinder.
Contact your Nissan dealer to schedule the necessary repairs.
Nissan recalls Sentras due to brake problems (MSNBC.com)