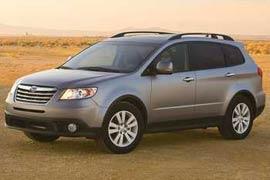 With a 5 percent yearly sales gain over 2007, Subaru is having a good year. What better way to enter the 2009 model year than with updates to one of its top sellers, the Impreza, and one of its worst, Tribeca.
With its standard boxer engine and symmetrical all-wheel drive, the Impreza has enthusiasts on its side. For 2009, the Impreza is available in 2.5i, WRX, 2.5GT, Outback Sport and WRX STI trim levels.
All Imprezas get rear disc brakes and a standard electronic stability system. The new 2.5GT has a 244-horsepower, turbocharged 2.5-liter boxer engine with a standard automatic transmission, a power moonroof and automatic climate control.
The WRX gets a 41-hp bump, now at 265 hp. The Outback Sport and WRX STI are relatively unchanged.
Prices have risen because of increased commodity and transportation costs, according to Subaru.
2009 Impreza 2.5i sedan/hatch: $17,495/$17,995
2008 Impreza 2.5i sedan/hatch: $16,995/$17,495
2009 Impreza WRX: $24,995 2008 Impreza WRX: $24,350
2009 Impreza 2.5GT: $26,995 (new)
2009 Impreza Outback Sport: 19,995 (no change)
2009 Impreza WRX STI: $34,995 (no change)
2009 destination charge: $665
2008 destination charge: $645
Unlike the Impreza, sales of the Tribeca have plummeted by half for July. To try and draw more interest to the Tribeca, Subaru has created a new Special Edition model. The model offers leather seats, heated front seats and an upgraded stereo system. The 2009 Tribeca Special Edition starts at $31,295 for the five-passenger edition and $31,595 for a seven-passenger model, a $1,400-$1,600 discount from last year's models.
Standard Tribeca prices won't change.
2009 Tribeca five-passenger/seven-passenger: $29,995/$30,995
2009 Tribeca Special Edition five-passenger/seven-passenger: $31,295/$31,595
2009 Tribeca Limited five-passenger/seven-passenger: $32,595/$33,595