Car Gadget Review: Slacker G2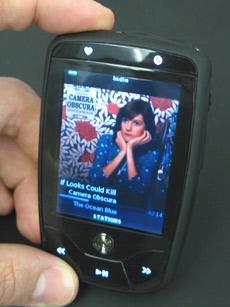 What is it: Slacker G2 Personal Portable Radio
Price: $199-$249 (4GB and 8GB versions)
Update: Slacker read our original review of its new G2 player and suggested we might have gotten a bum test unit with poor sound quality. They quickly dispatched a second unit, which we listened to back-to-back with the original, and there was indeed a drastic improvement in sound. Please note our edits to the review below, where we also compare its cost to Sirius XM and Microsoft's Zune Pass.
Overview: The Slacker G2 is a portable music player that not only lets you store and play your own MP3s, it makes internet radio portable, making it a potential alternative to satellite radio. With a slim new player; millions of free, ad-supported songs; and great content management, Slacker is an entirely new entity in the portable audio market. Based on our initial impressions, Slacker's hardware and software interfaces are excellent, and the audio quality is on par with any iPod or other MP3 playerbut its audio quality is not quite there. Going with an XM or Sirius product will give you better audio quality, but Slacker has beaten satellite radio overall by creating such a high-functioning player with more content, more options, no reception dropouts and no mandatory monthly fee.
Ease of use while driving: 25 (out of 30)
The Slacker's small, handheld form makes navigation through the device's menus easy when holding the G2 in your hand. Pressing the "home" button twice navigates you back to the main menu. From there, selecting the next station or song from your library is a breeze. On top of that, the very large "next," "previous" and "play/pause" controls create a sense of ease when using the device. The "next" button will probably be used most when driving to skip annoying songs that ruin a listen. The "ban" button (top right) is also easy to hit without a lasting glance; this button permanently bans those annoying songs from ever being played on your Slacker player again.
If you know album artwork like a music-junkie savant, you're set for easy artist recognition. If you don't, though, you may have to squint a bit when looking at song titles. The bright, clear, high-resolution screen makes the album art really come to life, but the small text can make it a tad dangerous to read while cruising down the highway. Music licensing may have something to do with this, but I found it hilarious that Kanye West's "Gold Digger" album art was that of "Now That's What I Call Party Music"
One downside to the device is how slowly it reacts to the press of a button. Even the volume up and down buttons take just long enough to react that they make you want to press them again to see if they've locked up. This can be fixed with a firmware update, and we hope to see Slacker take that action in the near future.
Ease of use outside the car: 7 (out of 10)
Not too many complaints about the smaller-than-a-cellphone Slacker when outside the car. The G2 comes with a gel-like case with a belt/pocket clip for portability, but most people will probably just drop the rubber-ringed player into a pocket sans case.
The included headphones will need to be replaced by something of a higher grade to improve sound quality. Even with high-end in-ear buds, though, the hollow sound the player emits is not acceptable. Adjusting the EQ didn't help much.
While there are an abundant number of equalizer genres to choose from, turning the EQ off entirely seemed to make the music sound best. The balance of bass and treble was just right for every genre played. The way my playlists look I would never be able to pick just one EQ setting, thus another reason to leave it off.
When the player's in your pocket you can blindly hit the "next" button to skip songs, which is always a plus.
Compatibility with most cars: 3 (out of 10)
While the G2 can connect to any analog auxiliary input jack in a car, it cannot connect to advanced systems with USB plugs. We tried the G2 on a Sync-equipped Ford, which generally can play any MP3 unit on the market, and we got nothing. The G2 thought it was plugged into a computer and waited for an update from the Slacker website. Uh, that's not happening in a Ford Escape.
We understand that the technology that allows users to stream Slacker radio programming digitally through a device like this isn't the norm, but we wonder why even the MP3s we downloaded onto the G2 didn't work via USB.
Company spokesmen say they're working with manufacturers on this issue, which could be fixed through a software upgrade. Without it, though, we have to give the G2 a fail in terms of working with the most advanced car systems.
Setup: 9 (out of 10)
It doesn't get much easier than this: After you take the device out of the box, head over to slacker.com and set up your account. Once your account is set up, a unique identifier for each player is assigned to your account. After that, connect the G2 to your local Wi-Fi network and your stations will be updated in no time. You can also update via a standard mini USB cord. Once the update is done you can customize your stations via either the player or the website, which will then update the player's stations the next time you sync them.
To upload MP3s straight from your PC, all you need is nearly any Windows-based media player (i.e. Windows Media Player or Winamp). The player will appear as a device in those applications and you'll be able to upload music in the same way as nearly any other portable MP3 player.
Features: 15 (out of 20)
One word: music. No ifs, ands or buts, this device is devoted to your music — no video, no photos, just music. In addition to the great internet radio content, there's artist bio and album reviews that can be viewed on the website or the player. From Timberland to the Doors, you can learn tons about every artist on Slacker. Of course, we don't recommend reading while driving.
We like the fact that this isn't just a radio player, but that you can add MP3s as well. If you only like one or two types of music you can get the latest variety with Slacker's channels, but add your personal favorites from your MP3 collection. Or if you recently downloaded a new album, you can just add it to the G2. We should note, however, that tunes bought on iTunes will not work on the G2 — though we didn't test iTunes' new DRM-free tracks. The G2 supports the major types of music files: AAC, MP3 and WMA.
Value: 15 (out of 20)
While the quantity of the content may be great, Slacker has a lot of work to do when it comes to audio quality and keeping prices down.
The sound quality that came from the device's headphone jack seemed to be sub-MP3. A number or staffers weighed in on the quality, and all reported a "hollow" sound to music coming out of third party, high-quality headphones. There wasn't a compressed feel like you get from some MP3 players, it just didn't have any warmth. MP3s sounded similarly to the radio content.
When plugged into a car's auxiliary jack the quality was superior to satellite radio and MP3 players., when plugging in through a car's analog jack there isn't enough power to really blast tunes with the windows down. The sound distorts when played too loudly. If you're a windows-up type of listener, though, it shouldn't be an issue.
Good audio quality is a necessary component of portable audio, and the Slacker G2 hasn't quite met that standard. When you consider its high price tag, this is almost a non-starter.
The cost of a monthly subscription (between $7.50 and $9.99 a month) for ad-free services hurts the value statement. That is significantly less than Sirius XM charges for its services, plus portable Sirius and XM units cost even more than the Slacker G2. Another option for those who want to spend on a monthly service would be to get Microsoft's Zune Pass, which allows for unlimited MP3 downloads for a monthly fee of $14.95 — though once you stop paying the monthly fee you'll no longer be able to listen to those tracks until you start paying again. The Zune players are significantly less money, as well, plus they play video and games.
However, there's a lot to be said for having channels of music programmed for you and not having to think too much when trying to just listen to music. This is what made radio one of the longest-running music platforms of all time. It's also what makes internet radio so alluring. Slacker has done a great job in adding a huge variety of music and comedy to its catalog. Popular songs aren't repeated ad nauseum, like you find on terrestrial and satellite stations either, which leads to a lot less channel surfing. For real music lovers, this is really the greatest value statement the G2 offers.
Final score: 74 66 (out of 100)
We wanted the Slacker G2 to be the Sirius/XM killer we've been looking for. While it offers more robust music programming and a cool portable unit, the sound quality and its flexibility in cars really hurts it. However, because everything is upgradeable via downloads these days, the company could fix some of these problems quite easily. We hope it does.
Related
Internet Radio on the Go: Slacker's New G2
More Car Gadget News