Chrysler Unveils Future Electric Lineup
Today, Chrysler took the wraps off three plug-in electric and plug-in electric hybrids today. They include an all-electric sports car from Dodge called the Dodge EV, and plug-in electric hybrids — or range-extended electric vehicles, depending on which terminology you prefer — that will be offered in the Jeep Wrangler and the Chrysler Town & Country minivan.

However, Chrysler says only one of the vehicles will go into production by 2010. What happens to the other two is anyone's guess.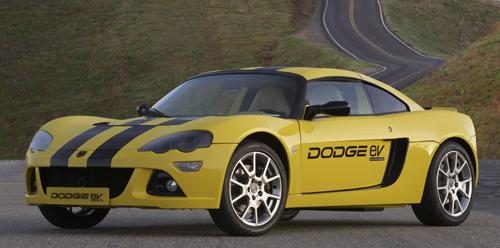 Like we mentioned earlier today, the Dodge EV is an all-electric sports car with a setup that directly mimics the Tesla Roadster. It has a 150-200 mile range on a full charge, and it can fully recharge in either four or eight hours, depending on the outlet used. It has an equivalent of 268 hp and 480 pounds-feet of torque with its electric motor and can hit 60 mph in less than five seconds. It will run on a lithium-ion battery pack.

The Jeep Wrangler and Chrysler Town and Country plug-in hybrids are set up almost identically to the Chevy Volt, with an electric motor powering the wheels and a small gasoline engine working as a generator to recharge the battery when its charge is depleted. Unlike the Chevy, however, these extended-range vehicles will go farther — 400 miles — on eight gallons of gasoline. The first 40 miles — exactly the same distance as the Volt — are all covered by the battery charge alone.
The Wrangler's power plant is also good for 268 hp, but less torque, at 295 pounds-feet. However, both figures are superior to the current V-6 Jeep Wrangler, which puts out just 202 hp and 237 pounds-feet of torque. The electric motor will power all four wheels.

The Chrylser minivan puts out slightly less power, with an equivalent of 255 hp and 258 pounds-feet of torque. It will hit 60 mph in nine seconds.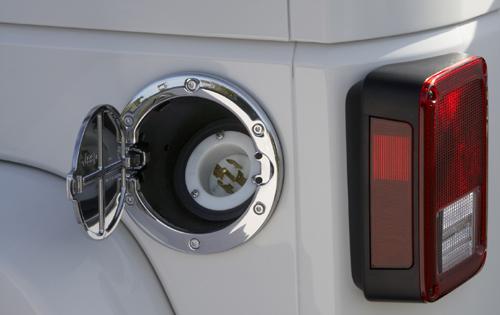 The Volt puts out an equivalent of 150 hp, which is about the same as a Honda Civic.

Chrysler has already started advertising these vehicles on its consumer websites and has created a microsite to tout them as well.

It seems the technology behind these vehicles is very real, but we're concerned that, because there's no concrete plan on which will head to production and absolutely no mention of pricing, the 2010 time frame may be too optimistic. The Town & Country probably makes the most sense, as families who own minivans most likely have a garage and could plug a car's power cord into an outlet at night, and they're likely to drive fewer than 40 miles a day.

More-popular Chryslers like the Dodge Journey and Jeep Patriot would clearly make more sense if Chrysler wants to reach a larger audience, or at least a more urban one.