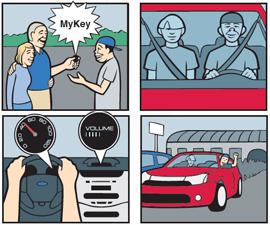 Ford has created a new type of car key that will allow parents of teens to add all types of nanny-like features to a new car. Each key can get its own program to limit top speed, add extra seat belt warnings and limit the volume of the car stereo.
Called MyKey, the system will be standard on the 2010 Ford Focus and will later be available on many Ford, Lincoln and Mercury models. We're guessing the Focus is first because it's the most affordable car in Ford's lineup and thus probably the most likely one to be given to teens.
Check out a full list of features offered on MyKey below.
"Persistent Ford Beltminder" keeps alerting the driver rather than shutting off every few minutes. It also shuts down the audio system and adds a reminder on the display that says "Buckle Up to Unmute Radio."
An early low-fuel warning can be set to go off at 75 miles to empty instead of 50.
Limits top speed to 80 mph.
Traction control cannot be deactivated.
Stereo volume can be limited to 44% of total volume.
Speed alert chimes at either 45, 55 or 65 mph.