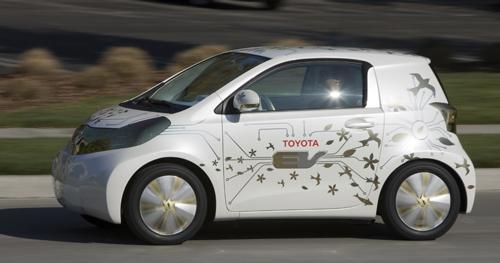 Looks like: Toyota took a Smart idea, electrified it, and added flowers
Defining characteristics: Small footprint, electric powertrain
Ridiculous features: 50-mile range
Chance of being mass-produced: Toyota says it will bring a similar vehicle to market by 2012
This is the first look at Toyota's big electric push into the U.S. market. The FT-EV concept is based on the iQ micro-car on sale in Japan (think Smart car with four seats). Yeah, we think that's pretty small, too. But get this: The all-electric concept — which looks to pack just two seats — will run on a home charge for 50 miles. Enough for most urban cubicle-hounds to get to work and back.
Unfortunately, we don't have much more information on this concept. Toyota says it is a "pure concept," meaning it doesn't want to spill the beans about what a production version would pack in terms of features, size or capability. But if it is meant for production in 2012, the real deal better be taking shape now, with a concrete vehicle hitting the show circuit next year. More photos below.