Obama to Visit Electric-Vehicle Facility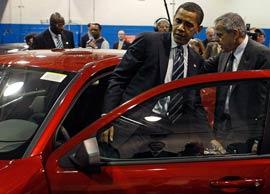 To highlight his commitment to the auto industry's venture into fuel-efficient vehicles, President Barack Obama will visit Southern California Edison's Electric Vehicle Technical Center in Pomona, Calif., this week.
The facility is a research center where Southern Cal Edison — in conjunction with Ford, which lent a fleet of Escape Hybrids to the project for conversion to plug-ins — is working on ways to more rapidly introduce the infrastructure necessary for an electric-vehicle future. Southern Cal Edison has logged more than 16 million miles in its fuel-efficient test fleet.
Obama made a strong push to include $2 billion for advanced battery research in the economic recovery package, but that's a miniscule fraction of what will be necessary to meet his goal of having a million plug-in electric vehicles on the road by 2015.
With the retreat of gas prices and hybrid sales declining, all the research in the world might not matter if there are no consumers lining up to purchase these advanced machines.
Obama Plans to Visit Electric Vehicle Facility (Detroit News)