Mazda Adds Environmentally Friendly Paint Technique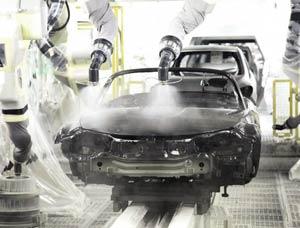 Mazda is trying to promote a more environmentally friendly image, both with a slogan — "Sustainable Zoom-Zoom," they call it — and with paint. That's right, paint.
Mazda has already introduced a water-based paint application technique to its factory in Hiroshima, Japan, and wants to use the method on all its vehicles in the future. The new Aqua-tech Paint System reduces emissions of volatile organic compounds by 57% over the "Three Layer Wet Paint System."
Mazda says its method is superior to the water-based paint systems used by Ford and Toyota, producing both lower emissions and also a brighter, more durable finish. The Mazda paint also functions as a primer and can resist chipping and light damage.
More important than the technique, though, is what Mazda has done to increase energy efficiency. The Aqua-tech system relies on more efficient air conditioning and water evaporation systems that dry paint quickly, greatly reducing the CO2 emissions involved in the energy-heavy process.
Wet, Green Paint From Mazda (Autopia)