Sirius XM Finally Here for iPhone; We Rate the Competition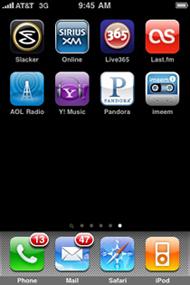 This morning, Sirius XM launched its much-anticipated application for the iPhone. The app is free to download, with a free seven-day trial to the service's lineup. After that, you'll have to pay the full $12.95 internet subscription fee for Sirius to keep it running. Current subscribers to Sirius XM in their cars have to pay an additional $2.95 a month to get internet and iPhone access. Unfortunately, Howard Stern's stations will not be available on the iPhone app even though they are available to regular internet radio subscribers via a web browser.
We've been testing a slew of free music apps for months in our test cars, at our desks and walking around town, and from that experience we've brought together an assortment of alternatives to Sirius XM for iPhone owners looking to expand their in-car entertainment options.
We'll have a full review of the Sirius XM app on the blog soon, but for now see what else is worth downloading to your iPhone or iPhone 3G S.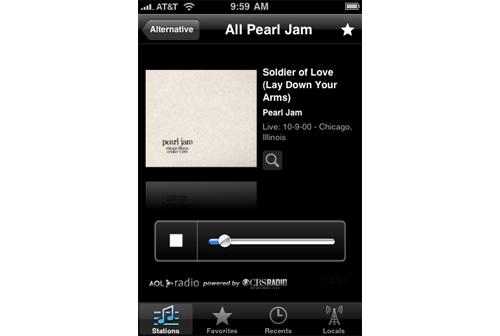 Yahoo Music/AOL Radio
Yahoo and AOL Radio are basically the same application using internet radio streaming stations, as well as an assortment of over-the-air radio stations that are part of the network. Both seem to feature the exact same stations for the most part.
Selection: Quite good, especially if you're into talk or sports radio and your favorites are part of the network. AOL features stations for certain popular bands that have live tracks, B-sides and other goodies. They include Pearl Jam, Green Day, Radiohead, Dave Matthews, The Clash, Metallica, Korn and Bruce Springsteen.
Interface: Basic and not great-looking.
Load times: Very slow. Takes a lot of time to move between channel screens when trying to select your station. There is no skipping. These stations are the same streams you find online. When you open one up, you come right into the current stream, not the beginning of the song like the other apps featured here.
Sound quality: Below average.
---
Pandora
Pandora originated the "we recommend music for you" concept, but now lots of apps can do that. Without other unique features, Pandora wins out only on its iPhone-friendly layout.
Selection: Totally customizable, but there are no presets to get you started or explore genres. In that way it's the least like radio of the bunch. However, Pandora has had the most time developing its recommendation engine, and it shows.
Interface: It's almost identical to the iTunes program on the iPhone or iPod Touch, making it the simplest to use once you've set up all your stations. The screen also rotates when you turn the iPhone, unlike all the other apps.
Load times: Quick, especially between songs. There were a few glitches during songs but nothing major, and it never stopped working entirely, like other apps tested.
Sound quality: Above average.
---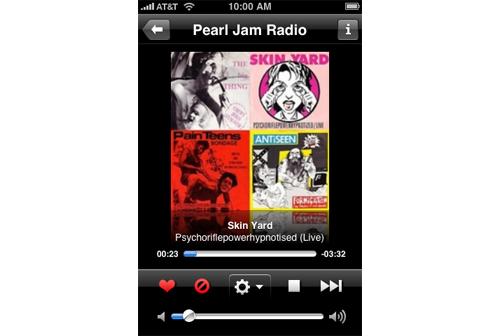 Last FM
Another player in the field that recommends songs based on your preferences.
Selection: You pick your stations and favorite artists and it recommends others, just like Pandora does. It was the only app I tested to pick Mother Love Bone for the Pearl Jam station, which was unusual.
Interface: This is a good-looking app with huge buttons and walk-throughs to build your own stations.
Load times: Really slow. Opening the app also takes a long, long time. Buffering between songs is exceptionally slow. At times the buffering was so bad I had to move on. It failed to launch a few times, as well.
Sound quality: Average.
---
Slacker
Slacker has been a favorite of ours since it updated its software. It's easy to use, sounds great and the reception is amazing.
Selection: Exceptional choice of pre-programmed channels, plus the ability to build your own. Includes comedy stations, too, for those Sirius XM folks who enjoy the genre.
Interface: Clearly a winner with bright graphics, large album art and big buttons.
Load times: The real win for Slacker is that it comes in almost anywhere and works well even when running on Edge speed. None of the other apps worked well on Edge, and if you're driving in unknown areas with spotty 3G reception, this could seal the deal. Moving between channels and songs, Slacker is one of the faster apps in terms of buffering time.
Sound quality: Quite good. It's the best of the bunch, with iMeem coming in a close second.
---
iMeem
This is a relatively new player with one amazing feature the others don't have: You can upload your own music to the iMeem website, then access it on your iPhone. The process works like Flickr for music, and was pretty seamless during my tests. Accessing your tunes takes as much time as accessing standard radio stations, though. However, this could be a bonus for those who want to buy less expensive iPhones with less memory and still access a lot of music.
Selection: The ability to access your own tunes is a big bonus for iMeem. Favorite-artist stations feature a nice assortment of tunes, as well.
Interface: Right up there with Slacker in terms of button ease. Artwork isn't quite as big, though.
Load times: Opening the app itself takes awhile, which is annoying, and it won't work at all on Edge networks. It was also the glitchiest program when just leaving it running. It would hiccup and refuse to start the current song again; you'd have to skip to the next song.
Once everything is running, though, it has one of the most unique load-time features among the group. A status bar fills up as the song loads so you know how full the buffer is. If it's all full, you know you can skip to the next song without having to wait. This was a huge help during my testing.
Sound quality: Above average compared with the other players. Not quite as good as Slacker.
Final Thoughts
If you don't have much time and just want to download one app, there's no doubt Slacker wins out. But I'd have to recommend iMeem to the music junkies wanting something really unique.