Eli Manning Back Hawking Cars for Toyota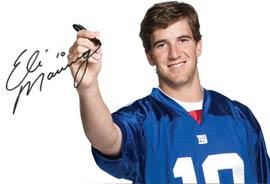 The Greater New York Toyota Dealers Association has a secret weapon this football season — Eli Manning heading up the "Great Time to Sign" sales event.
A series of 30-second spots feature Manning in a run-of-the-mill Toyota dealership, buying a car from a couple of dealers who are ecstatic to have the New York Giants quarterback in their offices.
This year, Manning is joined by the New York Jets rookie quarterback, Mark Sanchez, with the joke being that the dealers (played by Chance Mullen and Joe Farrell) have no idea who Sanchez is.
While the spots certainly work in their own quirky little way, what do you think the odds are that either Manning or Sanchez ever gets behind the wheel of a Toyota for a night out on the town? After signing a multimillion-dollar contract, I doubt it's that much fun to run out and buy a Camry.