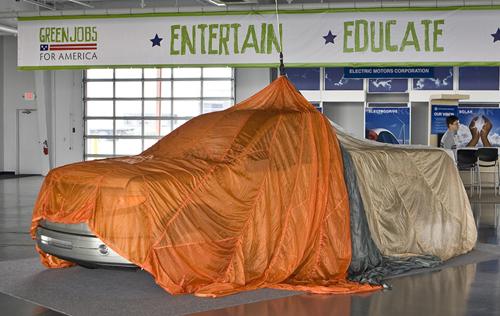 By Stephen Markley

Cars.com
When asked what the biggest difference is at her job since the onset of the recession, bartender Amy Picuda half-jokes, "Well, the tips suck."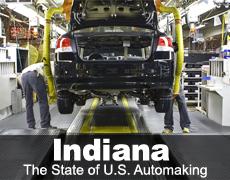 Picuda, 23, works at Mr. G's, a bar and restaurant in Osceola, in the heart of the economically devastated area around Elkhart. She shouts over to her friend, a waitress, "Hey, how long have the tips sucked?"
"Oh, about 17 years," her friend quips.
She laughs and turns back. "Well, I think it really started about a year and a half ago. If people have $3 in their pocket, they're always going to buy another beer and stiff you. We're lucky we have our regulars, though. I know a lot of places that have closed down."
Welcome to northern Indiana.
While Elkhart County's plight is not unique, especially in a country going through the hangover of the worst financial crisis since the Great Depression, this region has been hit especially hard and has consistently had one of the worst unemployment rates in the country over the past year. Its economy was bound tightly to the recreational vehicle industry and in 2008 — with the recession already underway and gas prices topping $4 a gallon — the bottom fell out.
Monaco Coach, a leading RV manufacturer with a plant in nearby Wakarusa took the hardest blow. The company, which employed 116,000 people at its peak, had slumped over the years to a work force of just 12,000. This included the shuttering of the Wakarusa plant, which cost the jobs of 1,400 workers.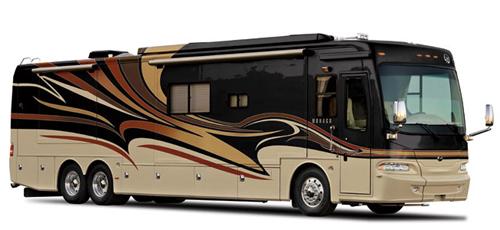 Ed Neufeldt was one of those employees. After 32 years working on the factory line at the Wakarusa plant, "My boss walked in, and he was all choked up. We figured there were big layoffs coming, but he just says, 'We're shutting down.' "
At 62 with only a high school education, Neufeldt found himself out of a job and with few options.
"It was bad," said Phil Damico, who quickly corrects himself. "It still is bad. You have to keep in mind, at one point 60 percent of this region was manufacturing, with 50 percent of that [being] the RV business."
Damico is the director of business growth for the nearby St. Joseph County Chamber of Commerce. He had a firsthand view of the collapse. Unemployment for Elkhart peaked at 18.9 percent in March, according to the U.S. Bureau of Labor Statistics, and Damico notes that the remaining jobs are low-paying, unskilled labor such as call-center work.
To put into context how far and how quickly the area's job base fell, consider that in 2007 the unemployment rate was just 4.6 percent.
Now Elkhart County and the surrounding towns have thrown their weight behind what many hope will be their best hope to revive the industrial base: electric vehicles.
Twice as a presidential candidate, Barack Obama visited Elkhart to highlight the region's struggles. In his first month in office, President Obama returned to whip up support for his $789 billion economic stimulus package.
Finally, in August and with unemployment hovering at 16 percent, he was back again to announce grants from the U.S. Department of Energy for Navistar. Navistar acquired Monaco in June and plans to begin using its Elkhart facilities to produce zero-emission battery-powered trucks.
Meanwhile, just south of Elkhart in Wakarusa, Wil Cashen, the CEO of the Electric Motor Corp. is building what he believes is his own electric phoenix. He hopes it will not only help reinvigorate the area's economy but tempt Americans into embracing a cleaner automotive future.
Cashen — once an engineer for Lotus — grew up in Wakarusa. Although he also has a home in Malibu, Calif., he returned to his hometown with the idea to build an electric pickup truck based on the top-selling Ford F-150.
"It just makes sense to build it here. Everyone should be here," said Cashen, referring to other electric-car companies. "It's not just about bringing value to the community, but for economies of scale. Everything from wiring to the dealer networks, you have right here. It just makes sense."
EMC's pickup truck, the Flash, is based on an F-150 frame and uses a patented drive system — Cashen calls it eCompounding — that automatically determines the best combination of the vehicle's electric, hybrid-electric and normal internal combustion engine drives, depending on what the vehicle needs. Interestingly, the drive system has a biodirectional energy capability.
What's that mean? The Flash can provide up to 60 kilowatts of energy. "You could probably run the house for three days," he said. "As long as you aren't running all the hairdryers at the same time."
EMC has also teamed up with Google and Apple to provide a high-tech interior, or as Cashen calls it, "the stuff."
"This is not a rough-and-tumble vehicle," he said. "Sixty-seven percent of truck buyers don't take their vehicles off-road. This is for the buyer who wants the utility and the coolness…It'll have all the cool geek stuff."
Though EMC wants to wait to reveal what all that "stuff" will be, Google and Apple programmers are working on an all-purpose media system that will include computing, entertainment, navigation and hands-free phone calls — all available through voice-recognition.
Cashen says he's expecting to sell the 40-mpg version of the Flash for about $50,000; given its electric-hybrid approach, it's likely to be eligible for a $7,500 federal tax credit. Cashen expects to be making the first deliveries of the trucks by June 2010.
According to Damico, EMC's announcement that they would be building their trucks in the Elkhart area "got the ball rolling" in creating interest in electric-vehicle technology. "We needed something other than RVs, but now there are even two RV companies hiring people back — Dutchman and Keystone — and interestingly, they're building toward more fuel efficiency, redesigning them smaller, building more towables."
Will any of these investments make a real difference to the area? Can the so-called "RV Capitol of the World" claw its way back? Damico says it will take a long time before all of those high-paying jobs are back, and any real recovery is still more than a year away.
"Can we get all those people who lost their jobs back to work?" asks Damico. "I don't know the answer to that. I don't know if electric vehicles are what's going to do it either."
"Let's face it, there is no market for plug-in electrics," Cashen said. Plug-in cars are "an industry that's being legislated into existence. [The Obama administration] has done enough to excite the industry, but Americans don't want to edit their lifestyles. What we need are early adapters, and those are range-extended vehicles that people can drive like normal cars."
This is an important point because consumers have to be either willing to buy vehicles that they can't drive much farther than 100 miles, such as the Nissan Leaf, or they have to be willing to pay a premium to get the range of a typical car, found in vehicles such as the Tesla Roadster (sticker price $101,500) or the Chevy Volt — a sedan that will likely cost $32,000, even after tax credits are applied.
The struggling working class of Elkhart won't be the first customers for these vehicles, which will likely be sold on the coasts where people can afford the luxury of environmentally-friendly drivetrains.
For the people working to introduce electric vehicles to the American consumer, that time has begun and a revolution is in its early stages.
"All we got to do is change the world," Neufeldt said with a wry smile.
Neufeldt, who lost his job of 32 years in September 2008 found himself introducing Obama to a crowd in Elkhart five months later. His story was quickly picked up by media outlets, probably because its indicative of a country in economic crisis.
After introducing Obama, Neufeldt was recruited by Cashen to become a spokesman for Green Jobs for America, an umbrella organization for companies pursuing clean-energy technologies.
"Now I'm going to travel the country educating people, promoting what we're trying to do, which is put the American people back to work," Neufeldt said.
He is bullish about the prospects that the public — and especially the people out of work in Elkhart County — will catch on. Even after hearing about the scene of Mr. G's, where Amy Picuda and the lunch crowd expressed great skepticism of everything from federal stimulus money to plug-in technology, he remains optimistic.
"This country has got to do something," he said. "And I do believe we can have a green revolution. People are so desperate for work around here I think they're starting to believe it."
Next: Ft. Wayne: The Big Three's Last Stand
Previously: Mishawaka: Caught in a Global Bind