Mileage Challenge 5.1: Hybrid vs. Diesel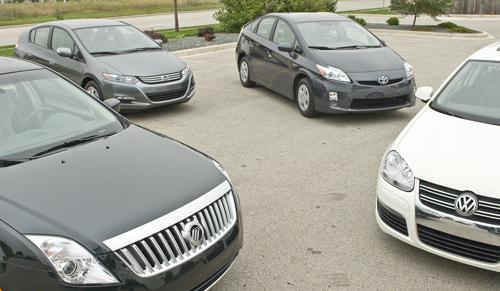 Despite gas prices averaging below $2.50 a gallon nationwide, hybrids and alternative-fuel vehicles are as popular as ever. The redesigned Toyota Prius is one of the country's best-sellers, and Volkswagen's TDI diesel was in short supply after it debuted at dealers earlier this year. With interest in these types of vehicles still high, we held another mileage challenge with the most popular of these cars and included both hybrids and VW's most efficient diesel.
We wrangled our two summer headliners — the redesigned Toyota Prius and all-new Honda Insight — and put them against the Ford Fusion Hybrid's corporate twin, the Mercury Milan Hybrid. The Jetta TDI defends its diesel turf and possibly bids auf wiedersehen to its hybrid rivals. It came with a DSG transmission, which gets 1 mpg worse in combined city/highway mileage than the available manual, but it ensured we'd have automatics all around. The TDI was also the only 2009 model in our comparison; the other three were freshly minted 2010s. For 2010, VW will have not only the Jetta TDI sedan and wagon but the smaller Golf TDI, as well.
Speaking of diesel: At our fill-up, it ran just 2 cents more per gallon than 87-octane unleaded. That's a much smaller difference than the national average — 16 cents more for diesel ($2.63 versus $2.47) according to AAA's Daily Fuel Gauge Report in early October.
However, diesel isn't available everywhere. Our usual starting point for mileage drives — a gas station in downtown Chicago — didn't pump it, so we shifted our route to start from a station eight blocks away with diesel pumps. BP, a prevalent brand in Chicago, reports 430 stations within 50 miles of our downtown offices. Of those, roughly a third — 138 stations — carry diesel fuel.
Here are the four cars and their vitals.
2010 Honda Insight:
1.3-liter four-cylinder with 10 kW electric motor and continuously variable automatic transmission; EPA gas mileage: 40/43 mpg city/highway
2010 Mercury Milan Hybrid:
2.5-liter four-cylinder with 79 kW electric motor and continuously variable automatic transmission; EPA gas mileage: 41/36 mpg city/highway
2010 Toyota Prius:
1.8-liter four-cylinder with 60 kW electric motor and continuously variable automatic transmission; EPA gas mileage: 51/48 mpg city/highway
2009 Volkswagen Jetta TDI:
turbocharged 2.0-liter four-cylinder diesel with six-speed twin-clutch automatic; EPA gas mileage: 29/40 mpg city/highway
We'll share our results throughout the week; feel free to air any predictions below.
Related: We drove all of these competitors along with the Audi A3 TDI and Smart ForTwo earlier this year to see how they stacked up as daily drivers, not fuel-sippers. Check out that report here.
2010|Honda|Insight
2010|Mercury|Milan Hybrid
2010|Toyota|Prius
2010|Volkswagen|Jetta