2009 in Review: Automotive Roller Coaster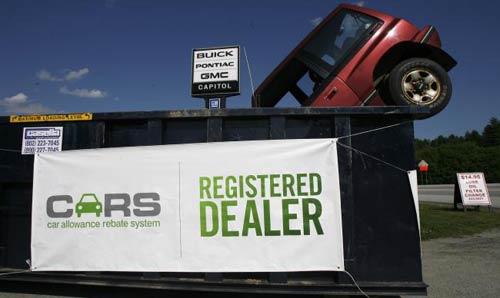 We can say this about 2009: At least it's over. Car sales plummeted then skyrocketed with the Cash for Clunkers program, and two of the largest automakers in the world went bankrupt. And those were just the major plotlines of what was a busy year for us covering everything on wheels.
January
We learn that
Fiat would acquire Chrysler
, setting up a tumultuous year that saw Chrysler's sales decline more significantly than any other company.
The 2009 Detroit Auto Show
features some significant new models
, including Ford's new Taurus, Cadillac's SRX and the new Toyota Prius. All had successful launches.
Cars.com debuts its second Super Bowl ad and scores scores well with the groups that rate Super Bowl commercials.
February
The economy takes a toll on driving. But as people drive less to save money,
fewer people die in traffic accidents.
The Insurance Institute for Highway Safety
announces its new roof strength ratings
, which took effect in November. The ratings make it much harder for a new car to earn a Top Safety Pick designation.
March
By the end of the month, it becomes clear that
the Obama administration is going to bail out GM and Chrysler
, but only if the two meet specific goalposts. Surprisingly, both did, but not before months of political wrangling and the frayed nerves of car dealers and other stakeholders.
Halfway across the globe, Indian car company Tata announces that
its new Nano minicar would retail for around $2,000
, making it the world's cheapest new car.
April
At the end of the month, President Obama announces
the controlled bankruptcy of Chrysler
. Pushing through the process at unprecedented speeds avoids a cataclysmic drop-off in sales. This made the decision to push GM through bankruptcy a lot easier.
Before that happened, however, GM announced that no matter what happened,
the Pontiac brand would be wound down
. The famed performance brand was the first to fall, but other GM brands would follow.
May
GM announces before it heads into bankruptcy that it
will sever franchise contracts with 1,100 dealers
. It was believed that reducing the number of dealers would make the company more competitive. Months later, however, many dealers have successfully petitioned their representatives in Congress to negotiate a return to the GM fold.
Word also comes that
GPS systems might fail in the near future
, possibly starting in 2010, because of a faulty satellite network.
June
This month will go down in history as the month
GM filed for bankruptcy
. Once deemed too big too fail, General Motors went through a speedy restructuring process; dropped Saturn, Pontiac, Hummer and Saab; and fired its CEO. His replacement resigned just five months later.
Details of the Chrysler-Fiat merger come to light, and we broke down what it might mean to U.S. customers.
Cars.com releases its
annual American Made Index
, where the Toyota Camry overtook the Ford F-150 as the top-selling car with the most content from the U.S. of A. It was an illustration of just how skewed some common notions of domestic and import really are.
The year also might be known for texting awareness. In June, a study is released stating that
texting while driving may be more dangerous than driving drunk
.
July
You couldn't get the auto industry in front of the news much more than watching two domestic automakers go bankrupt. But in July,
the Cash for Clunkers program begins after a few missteps
. We would go on to write 83 blog posts on the subject.
We also detail
where the various GM brands stood
with the company about to emerge from bankruptcy.
August
Cash for Clunkers
keeps roaring in August
and gets extended.
The
sale of Hummer to a Chinese buyer was well under way
, but even today we're not sure where that stands. Also in August, GM
thought it had a sale for Saab well in hand
. That didn't quite work out the way it wanted.
September
The GM bankruptcy might have gone swimmingly, but the plan to sell its undesirable brands starts to fall apart. This is the month that
the deal to sell Saturn collapses
and the company winds down the brand, leaving dealers in a lurch and owners with vehicles losing resale value.
Toyota takes a huge hit to its vaunted reliability record with
a massive recall of 3.8 million vehicles
because of unintended acceleration issues.
Honda doesn't have it as bad, but it gets slammed on Facebook and across the Internet after
unveiling images of its new Accord Crosstour online
.
October
We told you texting would be a big deal in 2009. In October,
a poll finds 97% of people want texting while driving banned
. One commenter notes that more than 3% of drivers he encountered on his commute were texting, so clearly there's some conflict with the numbers.
We run our follow-up series on the state of U.S. automaking with
an in-depth look at Indiana and how it plays a part in the overall auto industry
.
GM also gets closer to selling Hummer to a Chinese company while Chrysler throws everyone a loop by spinning off the Dodge Truck lineup into its own brand, simply named Ram. Millions are spent on marketing the lineup throughout the rest of 2009, but their sales decline continues without any gains from the campaign.
November
We detail the future Chrysler, Dodge and Jeep lineups.
The IIHS releases a much smaller list of Top Safety Picks.
December
The year certainly doesn't go out with a whimper. In fact, Tiger Woods roars into the tabloid headlines,
as does his now infamous Cadillac Escalade
. It turns out the Woods family had two Escalades on loan from GM. This is months after the two severed their long-running Buick sponsorship.
GM's losing streak continued as it was
unable to sell Saab to anyone
, even with oodles of cash handouts from the Swiss government. That leads to CEO Fritz Henderson resigning on the eve of the L.A. Auto Show, stealing any headlines for
the 40 mpg Chevy Cruze compact sedan
. See, bet you didn't even remember that new model's debut.