Car Technology Gets Cheaper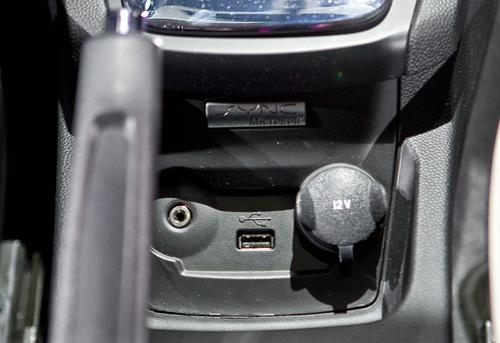 The L.A. Auto Show drives home a developing theme: High-tech gadgets are becoming readily available in some of the market's cheapest cars. For the latest in connectivity and multimedia systems, you don't always have to fork over luxury-car bucks. Ground zero, it turns out, is small cars.
At the show, Chevy unveiled the U.S.-bound version of its Cruze sedan, a compact car that offers USB integration for iPods to dock, recharge and play tracks through the car's stereo. The Cruze will also offer a navigation system, OnStar telematics service, Bluetooth connectivity and satellite radio. Across the convention center, Ford announced that its pint-sized Fiesta (above) can come equipped for less than $16,000 with Ford's Sync infotainment system, which does everything from playing tracks off an iPod by voice command to reading text messages from a mobile phone. Both cars come on the heels of Nissan announcing a light-duty navigation system that runs just $400, and Kia is rolling out standard USB/iPod integration on two sub-$14,000 models.
"There's a level of technological content that the consumer desires," said Mike Marshall, an analyst with J.D. Power and Associates. Marshall is a senior director of emerging automotive technologies, so this is right up his alley. "I can't imagine, if I'm a product planner of a 2013 car, of not having satellite radio or not having USB connectivity," he said.
Low-Price Navigation



Factory navigation systems typically cost around $2,000, but some small cars will offer navigation for a fraction of that cost. Suzuki sells a $16,149 SX4 Sport sedan with a standard pop-out navigation system. Nissan's $400 in-dash navigation option will come on the Sentra, one of the automaker's cheapest cars.
"This is something new," Global Insight analyst Tracy Handler said of the proliferation of consumer technology in small cars. "Previously, a small car was something you bought because it was cheap — so it didn't have the technology."Handler said she thinks carmakers are going for higher-tech features in small cars for two reasons: One, today's younger car shoppers — the intended market for most small, less-expensive cars — have grown up in an age where many of their parents' cars had navigation systems.
Her second reason: Most automakers would draw razor-thin margins on a $15,000 compact car. Navigation systems are a way to increase those margins, especially as the systems come down in price.
Such small, inexpensive systems have their limitations, of course. A conventional navigation system runs on a screen that's 6 inches to 9 inches in size. Nissan's new unit runs on a 5-inch screen.
"It doesn't employ a hard drive or a DVD, so it's drawing the map information off an SD card," Marshall said of the Nissan system. "So when you take a hard drive versus an SD card, by definition you're going to have slower response times."
The Aftermarket Battle
As affordable as navigation systems have become, there are cheaper alternatives. Aftermarket navigation systems from Garmin and TomTom cost as little as $100, and GPS-enabled smartphones can route you to your destination for far less than that.
"There's always going to be a segment of the population that doesn't opt for a factory-installed system," Marshall said. However, most buyers are willing to pay extra for a system that's covered under the car's warranty and fits with the interior. It's a matter of "something stuck to my windshield versus something that's part of my vehicle and aesthetically pleasing," he said.
Autoconomy's Erich Merkle said these less expensive systems may offer automakers the best defense yet against the aftermarket. Merkle is president of the Grant Rapids, Mich.-based firm, which provides consulting services across the auto industry."All things being equal, I think people are going to select the system that's integrated into the automobile — unless it's especially price prohibitive," he said.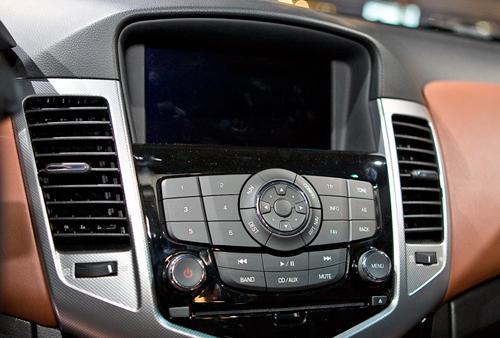 "If you can make it so that it's priced maybe just a little bit more than some of the aftermarket alternatives it becomes appealing."
Over at Chevrolet's auto-show stand, design director Mike Simcoe said he's not concerned about the aftermarket. Consumers will always be able to get cheaper alternatives, even alternatives to the $100 systems on GPS-enabled smartphones, Simcoe said. Factory navigation systems, including the one in the Cruze, open up possibilities for a bevy of controls — from the navigation screen to the stereo — integrated into the dashboard display.
MP3 Integration
In the early 2000s, just a handful of cars offered MP3 jacks to play songs off an iPod or other MP3 player through the car's stereo. The integration was rudimentary: You'd need to change tracks through the MP3 player's controls and route an additional line to the car's cigarette lighter or 12-volt outlet if you wanted to keep the device charged. Today's cars offer full USB integration, which allows for one line to charge the MP3 player and patch music through to the stereo. In most cases it also displays songs and playlists on the stereo readout and allows full control of the MP3 player through the car's stereo faceplate or steering-wheel controls.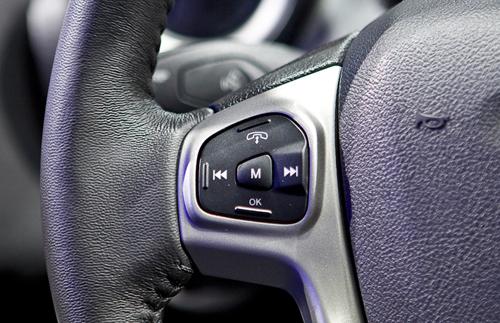 Most luxury cars offer USB integration, but it's still optional on a lot of models. Among cheaper cars that's hardly the case: Toyota's youth-oriented Scion brand has standard USB integration on the xB and xD hatchbacks, and Kia and Hyundai include it standard on a number of small cars.
"A lot of consumers are telling me, I want this," said Michael Sprague, Kia's marketing director. Of Kia's 2010 lineup, only the base-trim Rio — an $11,695 car — does not have a standard USB port.
"Tastes are changing," Sprague said. "If you're not keeping up with them, you're irrelevant."
USB inputs are "dirt cheap" to throw in, iSuppli's Mark Boyadjis said. Boyadjis is an automotive analyst at the company, a California-based electronics consultancy. When any automaker can throw a high-rent feature like that into the bulk of its cars — much like GM did with its OnStar telematics service — it adds equity to the brand at comparatively low cost, he said.

The Possibilities
Think the high-tech is impressive and interesting today? Just wait.
"It's going to get better," Merkle said. "We're going to see further development in voice recognition and being able to actually talk to your [navigation] system than you're able to do today. … In the future, I think that voice recognition will be much more conversational."
Expect a lot of new feature content, too. One example: For an annual subscription cost of $280, Mercedes offers a service call mbrace. Among a litany of other things, it can directionally route you to your car in a crowded parking lot via GPS on an iPhone.Such technology will take some years to reach more affordable segments — but it will.
Boyadjis said there are near-limitless possibilities to come: "That is, I kid you not, the tip of the iceberg."