Hyundai and Kia Ready for Primetime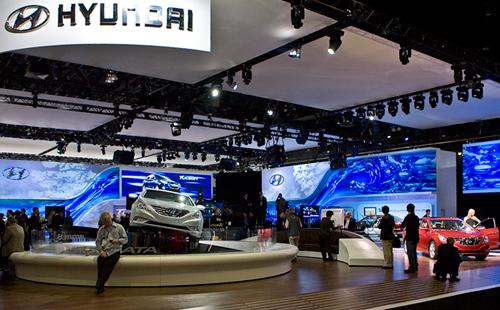 Although 2009 has been beyond tumultuous for the automotive industry, a few automakers have actually made gains in this tough market. Subaru's loyal following led to a big boost in sales when new versions of beloved models hit dealerships. Korean automakers Kia and Hyundai made similar gains without masses of unwavering fans. How did they pull that off? And how did they overcome past mistakes to gain much-vaunted market share in the industry while others have floundered? For Hyundai, it was about being in the right place at the right time and employing an aggressive marketing strategy that played both on consumers' shifting mindsets and fears about the economy.

"American consumers did give us credit for the Assurance program being our own idea. It didn't involve government support," said Hyundai of America CEO John Krafcik. "It was just a smart and simple idea." The Assurance program reassured new customers that Hyundai would allow them to return their cars if they lost their jobs.

While Hyundai had a few new models in 2009, they weren't volume sellers. Instead, the company took a chance on the full-size near-luxury Genesis sedan, which is not selling exceptionally well but has garnered heaps of praise in the press (including Cars.com's award for Best New Car in 2009). "Genesis definitely helped in classic 'halo-car' fashion," Krafcik said. "Customers said 'If they can make this fantastic car in this range we should look at these [lower-priced models].' "

Other automakers should pay attention. In 2009 Hyundai's share of the market rose to 4.3% through November, up from 3.1% in 2008. That was without adding any significant new models and while phasing out a few duds like the Entourage minivan. In the next two years, the company will have seven redesigned models on sale, starting with the high-volume Sonata midsize sedan and the Tucson compact SUV shown at the 2009 L.A. Auto Show. Both will hit dealer lots in the next few months.



Kia, on the other hand, launched two extremely significant new models in 2009. Starting with the trendy Soul compact hatchback, Kia was able to show the buying public it had attitude to match its rock-bottom pricing. "Our transformation really started this past year with the Soul. It set the tone for 2009 and the momentum the brand is experiencing," said Michael Sprague, Kia's vice president of marketing.

Kia's next model, the Forte compact sedan, replaced the dated Spectra. The sedan isn't as aggressively funky as the Soul, but the Forte Koup — a two-door coupe — is as flashy as any of its competitors. They both pack more standard features at a cheaper price than the Japanese competition, with interior quality that isn't far behind.

"Talk to anybody in this business and product is king. It's all about product. Tastes are constantly changing and if you're not keeping up with them you become irrelevant," Sprague said. "I think over the last couple of years we've seen a lot of brands become irrelevant to consumers."

The Soul was also one of the few compact cars to garner a 2010 Top Safety Pick by the Insurance Institute for Highway Safety; the group instituted strict new guidelines reducing the number of top winners to 27 from 93. In the past, neither brand had been known for top crash-test scores.

The Soul has been outselling the two other box-like models on the market, the Nissan Cube and Scion xB since its first full month of sales. The Forte has also sold at a brisk pace for Kia. It isn't close to outselling the perennial champs, the Toyota Corolla or Honda Civic, but it is closing in on Nissan's Sentra.

At the L.A. Auto Show, Kia showed off its redesigned Sorento crossover, which, like the Forte sedan, keeps things understated but packs a lot of features in for the money. Sprague wouldn't comment on what model was next in line for an overhaul, but he said by 2012 the Kia Borrego — released last year — would be the oldest model in the portfolio. That suggests significant changes are to come for the rest of the lineup including the Sedona minivan, Rondo small van, Optima midsize sedan, Rio subcompact and Sportage compact SUV.

The three new models Kia and Hyundai debuted at the auto show will be built in the U.S. Both companies are hiring and employing thousands in states like Georgia and Alabama during trying times, which could help change consumer perception of the two brands. In the small towns near the factories, it's common to see signs praising a higher power for Kia or Hyundai setting up shop nearby.

"It was a surprise to all of us that consumers said 'You should tell us that you're investing here, you're providing jobs' in our ads," Sprague said. "Five or 10 years ago 'Made in the U.S.A.' wasn't what people wanted to hear, they wanted something built in Japan."

Perhaps the most resounding endorsement of these two companies came from someone who sat next to me in the new Hyundai Sonata during the press days of the L.A. Auto show. This executive clearly worked for another automaker, and the second he sat down in the passenger seat and ran his hand along the dash, he marveled, "I guess we really have to look out for these guys now."