2011 Ford Shelby GT500 at 2010 Chicago Auto Show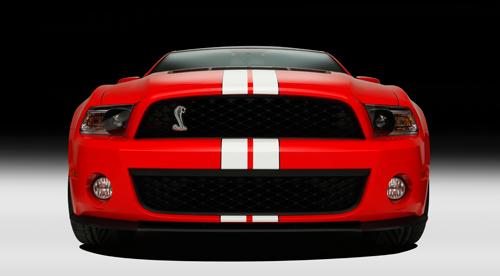 Competes with: Dodge Challenger SRT8, Chevrolet Corvette
Looks like: A souped-up Mustang, like last year's GT500
Drivetrain: 550-hp, supercharged 5.4-liter V-8 with six-speed manual transmission; rear-wheel drive
Hits dealerships: Spring
Like its lesser V-6 and V-8 siblings, the Mustang's rip-snorting Shelby GT500 variant received its own tweaks for 2011. They're relatively slight, compared to the
vastly upgraded drivetrains on the V-6
and
V-8 'Stangs
. The biggest news is gas mileage: Thanks mostly to new aluminum engine construction, which saves some 100 pounds versus the 2010 GT500's iron-block supercharged V-8, Ford expects the Shelby to earn an EPA rating of 15/23 mpg city/highway. That's up from last year's 14/22 mpg, and it keeps the car from incurring last year's $1,000 gas-guzzler tax.
Improved exhaust flow adds 10 horsepower for a total of 550 hp at 6,200 rpm. Torque remains the same, with 510 pounds-feet on tap at 4,500 rpm. Disregarding the old days of gross horsepower ratings, this ties the Ford GT for the most horsepower any factory car from Dearborn has ever produced.
Other changes include new electric power steering, which Ford says delivers improved driving dynamics and steering feel over last year's hydraulic steering. It also helps with fuel efficiency, as there's no more hydraulic steering pump dragging on the engine. Additional insulation reduces road noise some 20 percent versus the outgoing Shelby, according to Ford. Nineteen-inch wheels and xenon headlights were previously optional; both are now standard. Ford's MyKey system, which allows parents to place driving limits on their teen drivers, is also included. (MyKey or not, though, we should add that teenagers and GT500s seem like a dubious combination.)
Available as a coupe or convertible, the Shelby GT500 will go on sale in the spring. Prices have yet to be announced, but we'd expect the car to start somewhere near the 2010 model's $46,725 base sticker.
More photos below.