What to Do at the 2010 Chicago Auto Show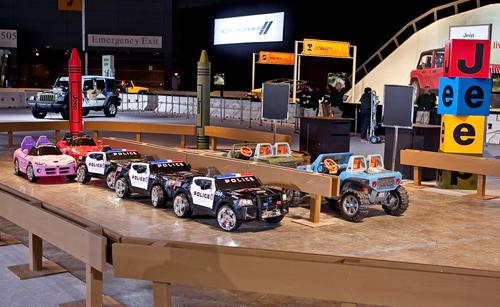 If you're heading to this year's Chicago Auto Show, you'll find much more than just the new production and concept cars we've covered here at
KickingTires
. Because McCormick Place is ginormous in every regard — the show floor takes up 1.2 million square feet — automakers, local businesses and dealerships have room to bring out all sorts of unique cars and exhibits that cater to kids and anyone else who tires of ... kicking tires.
The Chicago show is always a big family attraction. This year, a miniature track at the Dodge display has electric-powered sidewalk cruisers for kids to drive. The pint-sized hot rods take the form of a Dodge Viper, Dodge Charger police cruiser and Jeep Wrangler. How cool is that? You can also let gravity provide fun for the kids with two huge inflatable slides at another display.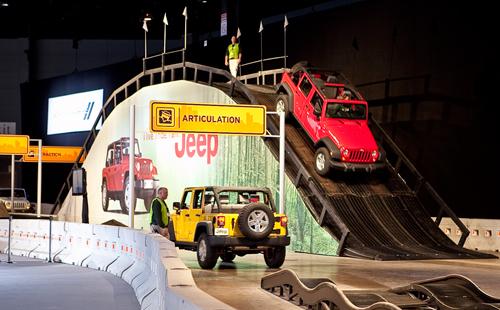 Next to the kids' track is Chrysler's big indoor test track, a staple of the Chicago show over the past few years. Jeep's off-road capabilities are on demonstration with trained drivers taking show-goers around the course in mostly Wrangler Unlimiteds. The Wranglers climb and descend a steep hill and drive over obstacles that demonstrate ground clearance, traction, stability, articulation and maneuverability.
If you've been dragged to the show by a car geek friend, be on the lookout for a six-person foosball table at the Ford display to occupy some time.
If you are that car geek, there are stunning exotics. The Maserati Gran Turismo S is on the show floor, as is Porsche's new Panamera sedan, so you can judge for yourself if it's as ugly in person as it is in pictures.
Automakers also use McCormick Place's almost limitless floor space to bring out their racecars. Acura's American Le Mans Series racer is on display; Mazda has a matte black RX-8 track car at its booth; Hyundai has its Genesis Coupe drifter; and Kia even showed off a Forte Koup racer. There are tuner cars on the floor as well, including Lingenfelter Performance Engineering's 800-horsepower Corvette and 750-hp 2010 Camaro. Let's hope you don't come across one of these at a stoplight.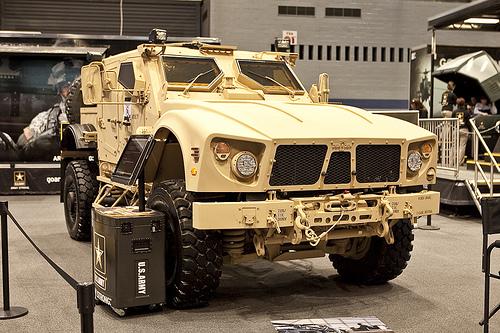 Lastly, the Army's booth has jaw-dropping massive military vehicles that likely weigh as much as all the cars in a small automaker's display combined. The area also has Army-related simulators and interactive demonstrations.
The show opens to the public today and runs through Feb. 21. Admission is $11 for adults, $7 for seniors and kids ages 7-12, and free for kids younger than 7. Visit
chicagoautoshow.com
for more information, including hours.