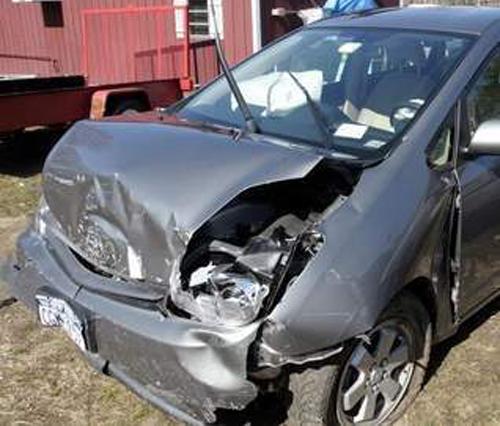 Recent incidents with 2004-2009 model year Toyota Prius hybrids have shed new light into the recall process of nearly 6 million Toyota and Lexus cars in the U.S.
Police investigators, Toyota and the National Highway Traffic Safety Administration are looking into
Monday's incident involving a 2008 Prius traveling over 90 mph with a stuck pedal
in California. No cause has been determined, but the owner said his Toyota dealer told him his car wasn't involved in the recall.
Meanwhile, a 2005 Prius in New York
accelerated out of a driveway into a stone wall
, causing extensive damage to the car, shown above. Police there said they've almost ruled out the floormat as the cause of the accident because it was tied to the seat base with plastic ties. That was an early fix that Toyota dealers installed while they waited for a more permanent solution to the problem.
That permanent solution still seems to be in the works for the Prius models. Other models such as the Camry have already received extensive retrofits, including shortening the accelerator pedal and adding a brake override system. Toyota says its solutions for the floormat recall — initiated last fall — are rolling in nature, meaning that some models, like the Prius, still don't have fixes in place.
Toyota has said the repairs would be rolling from day one — which was over five months ago — so we shouldn't be surprised. But with all the scrutiny involving congressional hearings, it's a bit of a shock that so much work remains to be done.